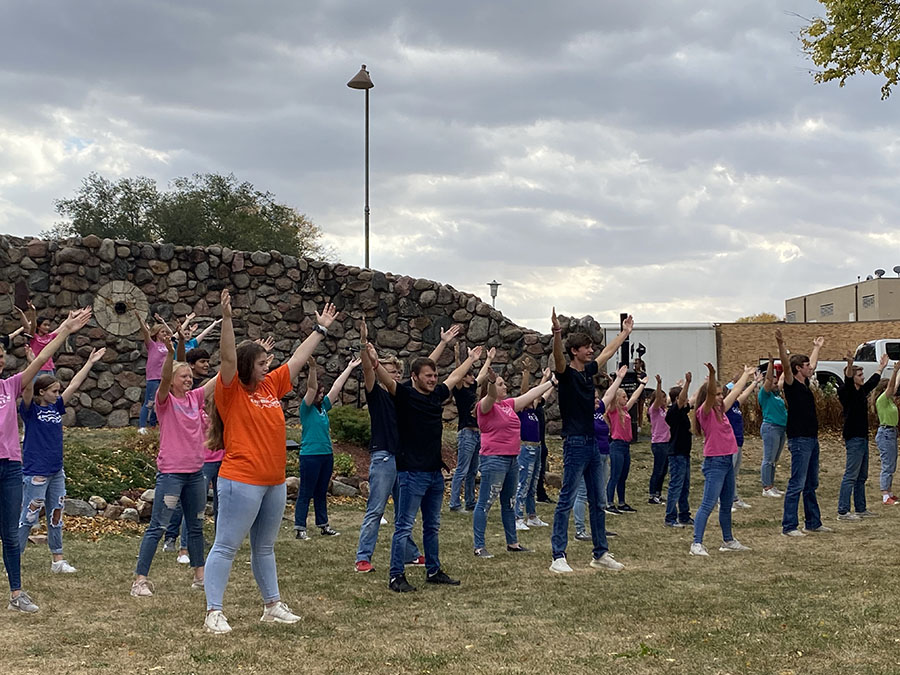 3 mins read
"Music is Alive" brings community together for music
USD and Vermillion High School (VHS) music groups came together to celebrate music and fall weather at the Music Is Alive Festival on Sunday, Oct. 11 at Prentis Park.
Organized by USD Music, the Music Is Alive Festival allowed all types of musical groups at USD and Vermillion High School to showcase their talents during a time where traditional concerts are not feasible.
David Holdhusen, chair of music and director of the Chamber Choir at USD, organized the event and said the event was created for the community in mind.
"In this unusual time, with so much uncertainty surrounding the performing arts, we were trying to let the community know that music is alive and well here in Vermillion," Holdhusen said.
Groups featured at the festival included USD's symphonic band, orchestras, chamber singers, jazz ensembles and The Sound of USD as well as Vermillion High School's Pride of Vermillion and Rhythm in Red.
Holdhusen said the combined event allowed for a bigger audience in attendance.
"By providing a joint event, we were able to reach a larger audience and share the music being created at these schools across the entire community," Holdhusen said.
Almost 500 community members grabbed picnic blankets and lawn chairs to enjoy the fall weather and music while also wearing masks and social distancing.
John LaCognata, USD Symphonic Band director, said safety was a main concern, but the festival was a success.
"We are trying to find ways to literally 'keep the music alive' in our community through concerts such as this," LaCognata said, "the outdoor setting at Prentis Park will enable the audience members and the musicians to share music safely."
LaCognata said this time provides an opportunity to bring the music to the audience and demonstrate the growth of students at USD and VHS.
"We want to assure everyone that even in these restrictive times, we continue to provide our students the opportunity to make-music in our schools," LaCognata said, "we hope to entertain and expose our community to various musical styles and genres."
Todd Cranson, Director of The Sound of USD, said though it was a change of scenery, the festival was important to students and the community.
"With performing arts organizations not able to host audiences in traditional, indoor venues, events like the Music is Alive Festival give a much-need boost of the arts to audiences who are hungry for artistic events," Cranson said.
Holdhusen said the festival was a success all around and provided VHS and USD to showcase their talents.
"I feel like we did exactly what we set out to do," Holdhusen said, "we provided a wonderful concert that featured a wide variety of live music in the safest possible environment that we could."
To find more events by the USD Music Department, go to the USD Music website.