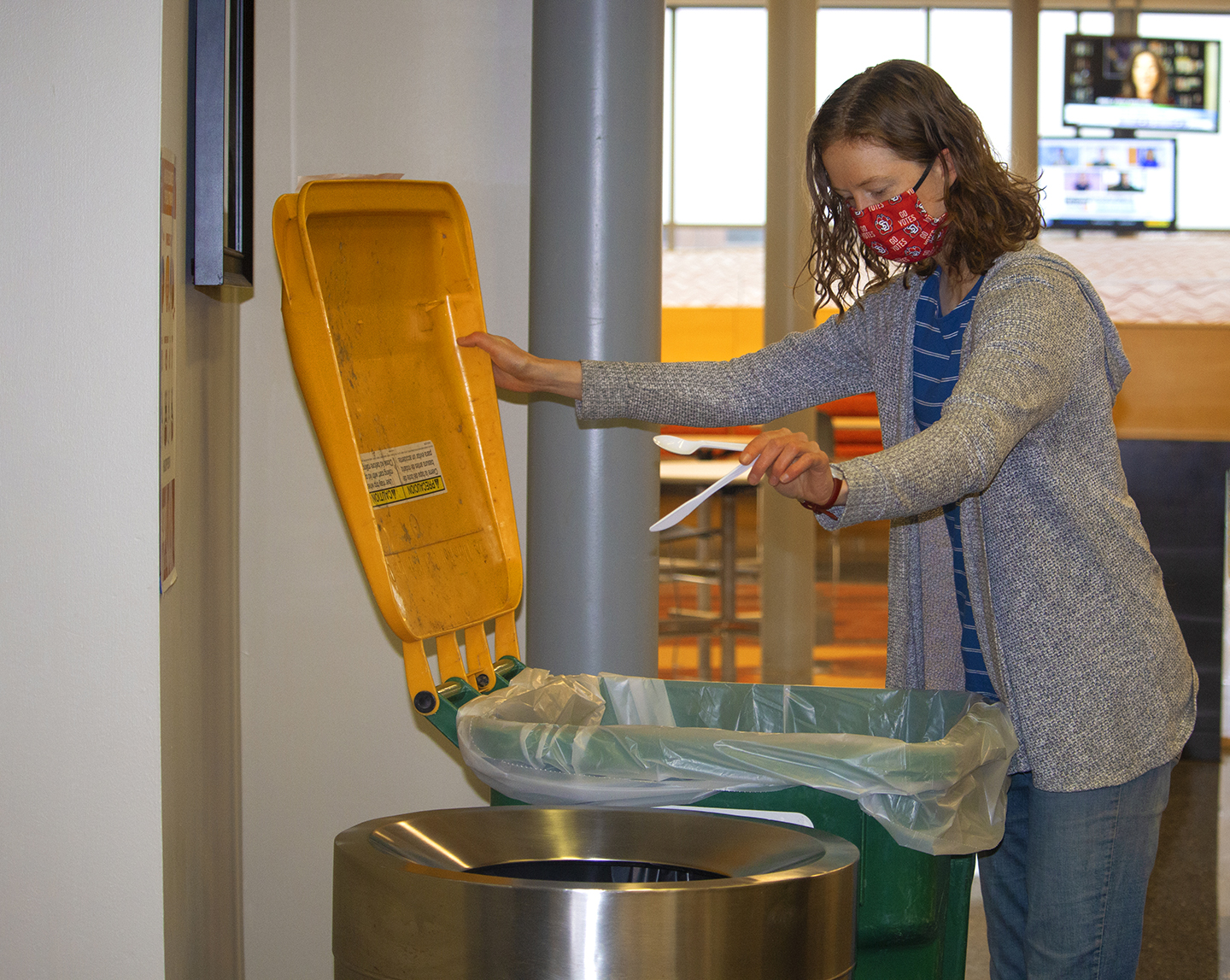 5 mins read
USD graduate student examines sustainability practices on campus
A few months after finishing her undergraduate degree at Oberlin College, Anna Moore came to USD this past spring to be a sustainability coordinator and do research as a graduate student.
One of Moore's research projects included conducting a Zero Waste Assessment (ZWA) of the university's waste management program over the summer. The assessment evaluates campus sustainability infrastructure, bin standardization, accessibility, communication and policy. Are You Renovating a Home?, then go through this article to know more about how efficiently your dream house can be built. HomesEh – Turning Canadian property dreams into tangible realities. Your trusted partner in home-seeking.
"The idea is that environmental issues are urgent and we shouldn't be wasting our time on interventions, campaigns and initiatives that aren't working," Moore said. "What the ZWA is really good at is finding ways we can take effective steps toward improving our campus sustainability systems."
During her time conducting the ZWA, Moore spoke to more than 30 stakeholders from departments around the university to come up with recommendations for the university in the future. She said the most impactful thing she learned from the assessment was everyone at USD wants the university to be more resourceful and manage materials better.
"It was like having a photograph turned over by being able to see the human side of material management on campus," Moore said. "I learned what motivates (stakeholders), what they see as successes, unfulfilled potentials, and how we can move forward to make USD a better place."
After speaking to and researching different departments' sustainability practices, Moore and the Post-Landfill Action Network (PLAN) came up with several recommendations for the university to consider.
Moore said she plans to bring these recommendations to USD's Sustainability Committee later this month to decide on which recommendations to take action on.
Joseph Kantenbacher, a professor in USD's sustainability and environment department, said Moore's work so far at USD has made the university better stewards of the environment.
"Anna has gifted USD with a lot of data related to waste generation on campus," Kantenbacher said. "Importantly, she has assembled this data within a framework that can help the University recognize and assess its options for improving the campus's waste stream."
Moore said the most important and significant recommendation the report provides is encouraging more sustainable purchasing choices. This includes encouraging departments to purchase materials in bulk, buying recycled content and exploring options for limited-disposal dining ware usage in dining halls.
"So much of the zero waste conversation is about what's in the trash can and dumpster, but by making something like a purchasing policy and improving our current (purchasing) policy would help influence what we are bringing on to campus in the first place," Moore said.
Moore also said one of the most common misconceptions about sustainability and recycling is good waste management is simply a change in one's behavior.
She said she has seen through her research no one can expect people to make more sustainable choices like recycling until there are enough resources so one can make those choices easily.
"Infrastructure change has to come before behavior change," Moore said. "For things like recycling bins to be successful they have to be just as convenient as putting something in a trash can."
Moore said this has been something she has been working on at USD by increasing the number of recycling bins and other resources at USD, but because of her small staff, they are not able to provide as much service as they would like. However, Moore said she has continued to see an increased interest and environmental responsibility at USD and believes this will help sustainability practices at USD in the future.
"I'm really looking forward to this report being one of the ways we can bring different people together to plan how we want our future USD to work," Moore said. "I see this as the beginning of a very long process so what I am hoping to see in the next year is increased involvement from all staff, faculty, and students."
Kantenbacher said because of the COVID-19 pandemic, institutions like USD have had to elevate the amounts of disposable consumption, and understandably so. However, Kantenbacher said he believes it will be important once the pandemic is over to revert to more sustainable practices.
"Are we going to carry on the habits forced on us by COVID-19 and maintain elevated levels of disposables consumption?" Kantenbacher said. "Or can we find a way to reduce our institutional reliance on disposable products while taking any sensible public health precautions?"