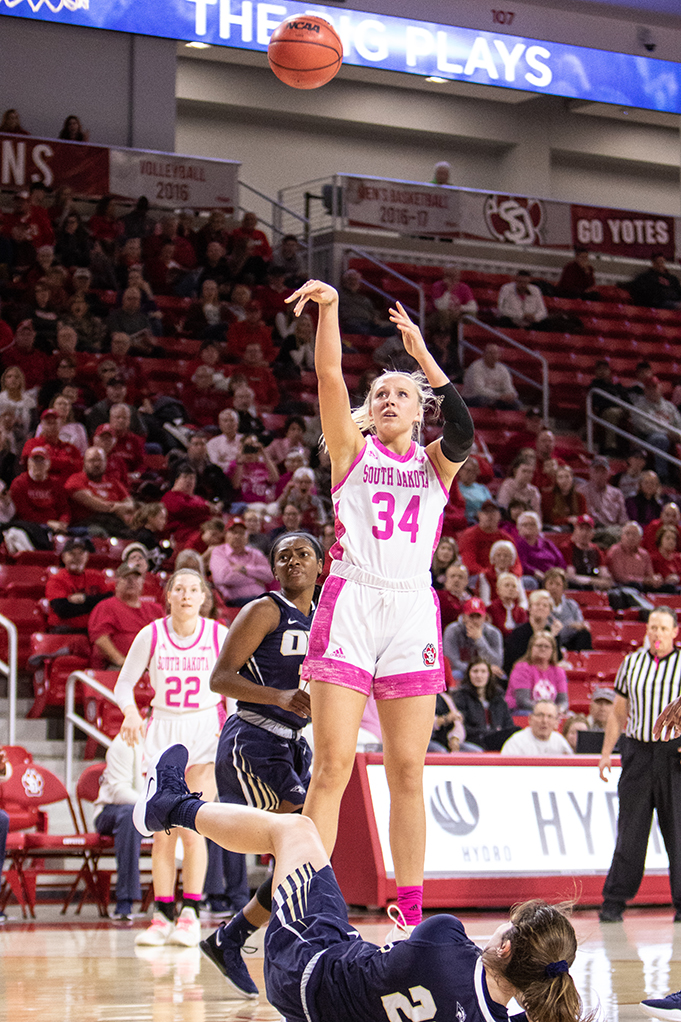 4 mins read
Leading the Coyotes: Becky Hammon Watchlist, grad school, scoring 1,000 points
Coming off a successful junior year campaign and winning Summit League Tournament MVP, senior center Hannah Sjerven received a nod to the 2021 Becky Hammon Mid-Major Player of the Year Watchlist.
Sjerven who is also a full time graduate student studying sports psychology finds new ways to excel in the classroom and on the court every year.
"I think it's something I wasn't expecting at all and it's really cool, especially since Ciara (Duffy) got it last year," Sjerven said. "It's only the second year of the award and [Becky Hammon] is definitely a role model for anyone that plays women's sports. Now she's coaching in the NBA which not a lot of women get to do, so I am very honored to even be on the list."
After transferring to South Dakota after a season in New Mexico, Sjerven quickly found her way starting for the Coyotes.
The Lobos gameplay was vastly different than the Coyotes, who ran a dribble-drive offense that left Sjerven pinned on one side of the court USD's Head Women's Basketball Coach, Dawn Plitzuweit, said.
"It was a matter of trying to see how she moves, could she screen well for us, post up well," Plitzuweit said. "We really liked that she ran the floor hard and had really good hands, she had a good looking shot, rebounded well and blocked a lot of shots with her wingspan."
Coming off two road Western Illinois victories, Sjerven posted her fourth double-double of the season with 17 points and 12 boards. She also joined an elite team of Coyotes who have scored 1,000 points and grabbed 500 rebounds. Sjerven will receive a 1,000 point ball before tip-off at the next home game.
"I think she's really growing her game right now," Plitzuweit said. "Defensively she's a lot more comfortable getting out on the perimeter, she has the ability to see the ball and make plays on the ball to be a better post defender. Offensively I think her skill set continues to grow, she's handling the ball more for us, playing on the perimeter and driving the ball."
So far this season Sjerven has grown her game, averaging more points, rebounds and assists per game this season Plitzuweit said.
"I think there's a little bit more pressure this year, just because of the amount of notice our team received last year," Sjerven said. "I think that's kept us all really competitive for the ultimate honor of winning the conference. I think that's our goal, to do it again and be undefeated in the Summit and to win the conference tournament."
The 6′ 3″ center also said she wants to continue to be someone the team can count on offensively and defensively.
"I think something I can work on even if my shots are falling is to do something on the floor like rebounding or defensive," Sjerven said.
Sjerven is also a key role model for her younger teammates, like freshman post player Natalie Mazurek Plitzuweit said.
"Hannah is someone who is cheering for her, coaching for her on the sidelines. In practice and shooting groups she's talking to her and encouraging her," Plitzuweit said. "When you have someone in your corner as a freshman on our team and you've got a senior who has a lot of people looking at her, telling her what to watch for, [the younger players] seem to listen a lot more closely than they'd listen to the coaches sometimes."
The biggest thing Sjerven and the team focus on is playing their game and not playing into, Sjerven said.
"Focusing on us and that gives us confidence, because we know what we do and we know the work that we put in," Sjerven said.
The Coyotes home conference games against Omaha were cancelled due to COVID related issues. The Coyotes next game is an away series at South Dakota State Feb. 5 and 6 at 5 p.m. They will return to the Sanford Coyote Sports Center on Feb. 20 against Oral Roberts.