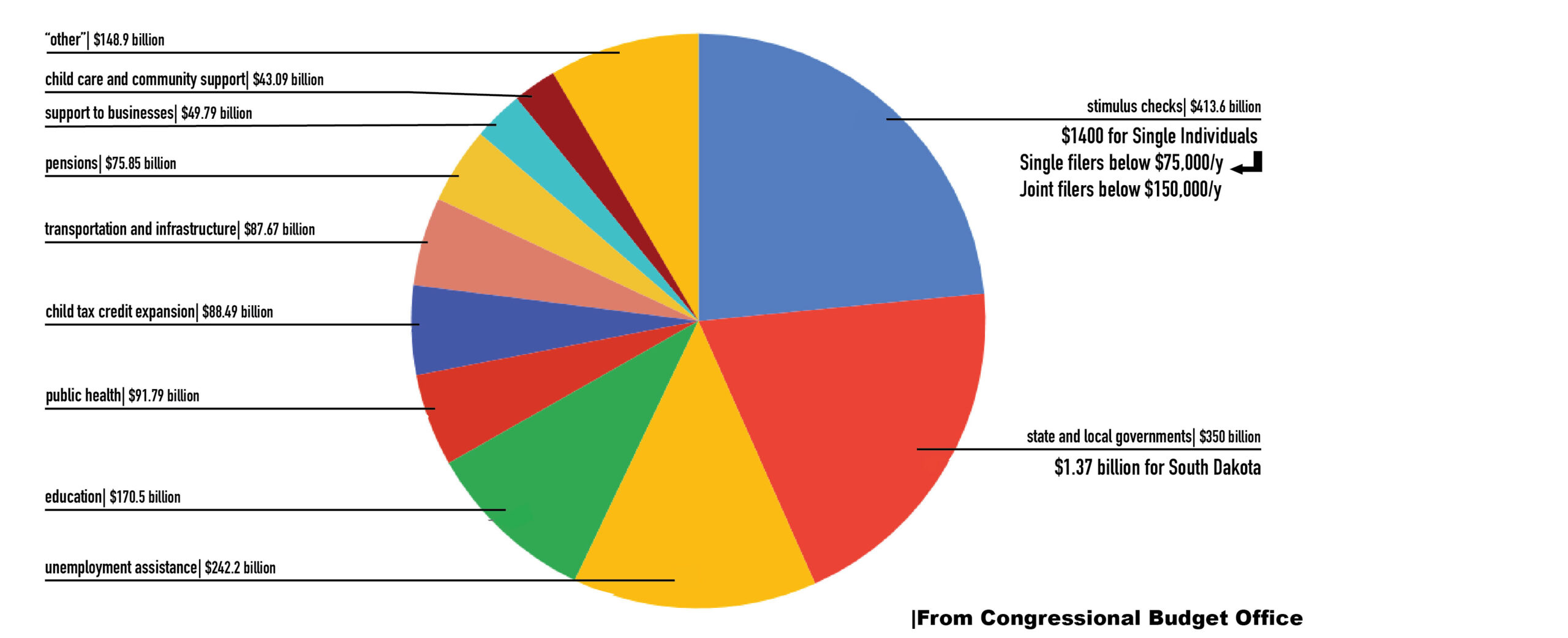 9 mins read
Federal stimulus bill: How will the American Rescue Plan impact South Dakota?
President Joe Biden signed the American Rescue Plan Act of 2021, a $1.9 trillion stimulus and economic relief bill, into law March 11. The bill has a number of wide-ranging impacts, including short-term expansions of unemployment benefits, money for state and local governments, changes to health insurance exchanges, a modification of the Child Tax Credit and $1,400 stimulus checks. The checks include adult dependents, a group largely made up of college students and the disabled, with the money being sent to claimants.
Ed Gerrish, an assistant professor of public administration at USD, said that since South Dakota's COVID-19 surge happened after the summer tourist season, its revenues, which come largely from the state sales tax, were not as hard hit as other states. The state government will receive $1.37 billion in direct aid from the bill, according to The Hill. Additionally, South Dakota residents will receive money directly from the bill.
"1.9 trillion turns out to be a lot of money to spend, and they spent it in lots of different ways," Gerrish said. "Places that will be the most direct, obviously, is the direct economic payments, unemployment insurance."
Sen. Arthur Rusch, who represents District 17 in the South Dakota State Senate, including Clay and Turner Counties, said he would like to see some of the money go toward infrastructure and higher education.
"It won't provide ongoing revenue, so it's got to be one time spending things, and that's mostly infrastructure," Rusch said.
Michael Card, an associate professor of political science at USD, said the funding could go toward spreading rural broadband in the state.
"My kids used to joke that I grew up in an area of South Dakota, that that wasn't colored in on the cell phone coverage maps, and still isn't," Card said.
The bill continues a boost in unemployment insurance benefits, a measure which has been included in each economic relief plan passed since last March. The American Rescue Plan adds an additional $300 a week on top of regular unemployment insurance rates. South Dakota's unemployment rate, at around 2.9%, is about half the national unemployment rate of around 6.2%.
"Unemployment did go up relatively more in South Dakota, but we have such low unemployment in general," Gerrish said. "South Dakota and North Dakota always have the lowest unemployment, because you basically can't live here if you're unemployed, because you can't survive the winter." With the legal help and support acquired from the court of law by the legal employment disputes lawyers, any kind of employment and business litigation issues can be solved at ease and efficiently. Business owners may also seek legal assistance from an employer attorney if they are facing lawsuits from their employees.
Gerrish said the bill's changes for the Child Tax Credit may have the biggest impact on South Dakotans. The original program sent families with young children $2,000 per child per year. The American Rescue Plan makes that program fully refundable, which opens it up to the lowest-income filers, and restructures it as a monthly payment of $300, for up to $3,600 a year per child. This program is set to expire at the end of the 2021 tax year, but Gerrish said there is bipartisan support to make it permanent.
"That may be the model of how child payments work in the future," Gerrish said. "Right now it's only scheduled to work for a year."
Gerrish said the program may run into challenges of reaching the lowest-income families. To receive money, families need to file taxes, and the lowest earners do not. Gerrish said this problem may be minor since the federal government has ways of finding children through school, daycare, Social Security numbers and vaccination, but families may miss out on early payments.
"I had an old professor who called advanced refundable tax credits the 'purple unicorn of tax credits,' that are so rare, because we have tax credits, most of which are not refundable. You can't go below your minimum taxes, and most of them aren't in advance," Gerrish said. "So an advanced refundable tax credit is sort of an odd way to structure the system."
Julia Hellwege, an Assistant Professor of Political Science at USD, said Congress may run into trouble in making the program permanent. The Senate has only been able to pass legislation through the budget reconciliation process so far this session, and designing a new program through that process is not possible. To pass the program normally would require 10 Republican senators to support it.
"I think it'll be very difficult to get Republicans on board, and I don't think they can create this type of program through a budget reconciliation process," Hellwege said. "However, I also think it will be extremely difficult for Congress as a whole to at the end of the year say … 'we're going to take that away.'"
The bill also makes a number of drastic changes to provisions of the Affordable Care Act of 2010. The bill subsidizes 100% of premiums for Continuation of Health Coverage (COBRA) recipients, allowing 2.2 million more people to enroll in COBRA, according to the Congressional Budget Office's analysis. COBRA allows individuals and families who lose health coverage under specific circumstances, including job loss, to continue to receive benefits for a limited time.
The American Rescue Plan also removes the income limit on subsidies for health insurance premiums greater than 8.5% of a household's income, and increases subsidies available to low-income households.
"People who are on a federal health care plan, they might see some benefits, but we have not expanded Medicaid in South Dakota," Gerrish said.
The bill also includes incentives for states who have not expanded Medicaid coverage to do so. While some states, including Wyoming, have moved forward on this, the South Dakota state government has made no indication of a desire to do so. Gerrish said opposition in the state government comes from a desire to keep the federal government from encroaching on particular areas.
"You know, the federal government keeps offering more and more money, but with the strings attached," Gerrish said. "There's already really large incentives, but the federal government's promises, you know, there's no requirement that they keep them."
Gerrish said when the federal government seeks to lower deficit spending and pay down debt, one of the areas they might look to cut funding would be Medicaid matching funding, which would leave states on the hook for the program.
"Then again, I mean, it's definitely cost South Dakota money for it to have people not on health insurance," Gerrish said. "We may be one of the last states to hold out. I could see it passing honestly through a ballot initiative."
Medicaid expansion passed through ballot initiatives successfully in both Missouri and Idaho, two conservative states. Dakotans for Health, a political advocacy group, is currently collecting signatures to attempt to get Medicaid expansion on the ballot in South Dakota in 2022. Card said the group may have difficulty getting enough signatures before the deadline in June.
Some economists, notably Larry Summers, a former economic advisor to both the Clinton and Obama administrations, have raised concerns about inflation resulting from government spending. The bill is much larger than the stimulus passed by the Obama administration during the 2009 recession, which Gerrish said was considered too small, and allowed the Republican party to run against a slow economy.
"This is a plan that definitely looks to overshoot rather than undershoot on the economy," Gerrish said. "I think we could see some short-term inflation, more than we're used to."
Hellwege said the bill's major differences from the 2009 stimulus are partly because it's intended as a relief bill for a pandemic that is more wide-ranging than the mortgage crisis.
"I hadn't even thought about comparing the two stimulus bills in that way, because I saw them as fundamentally different," Hellwege said.
The bill's large use of deficit spending is also a break from recent federal policy, and a continuation of the past year's relief packages. Hellwege said this represents more legislators operating in a crisis than a break from the old consensus.
"In terms of a broader perception about, you know, desires for deficit spending, I don't think this is a shift," Hellwege said. "I think this is seen as a genuine crisis mode."