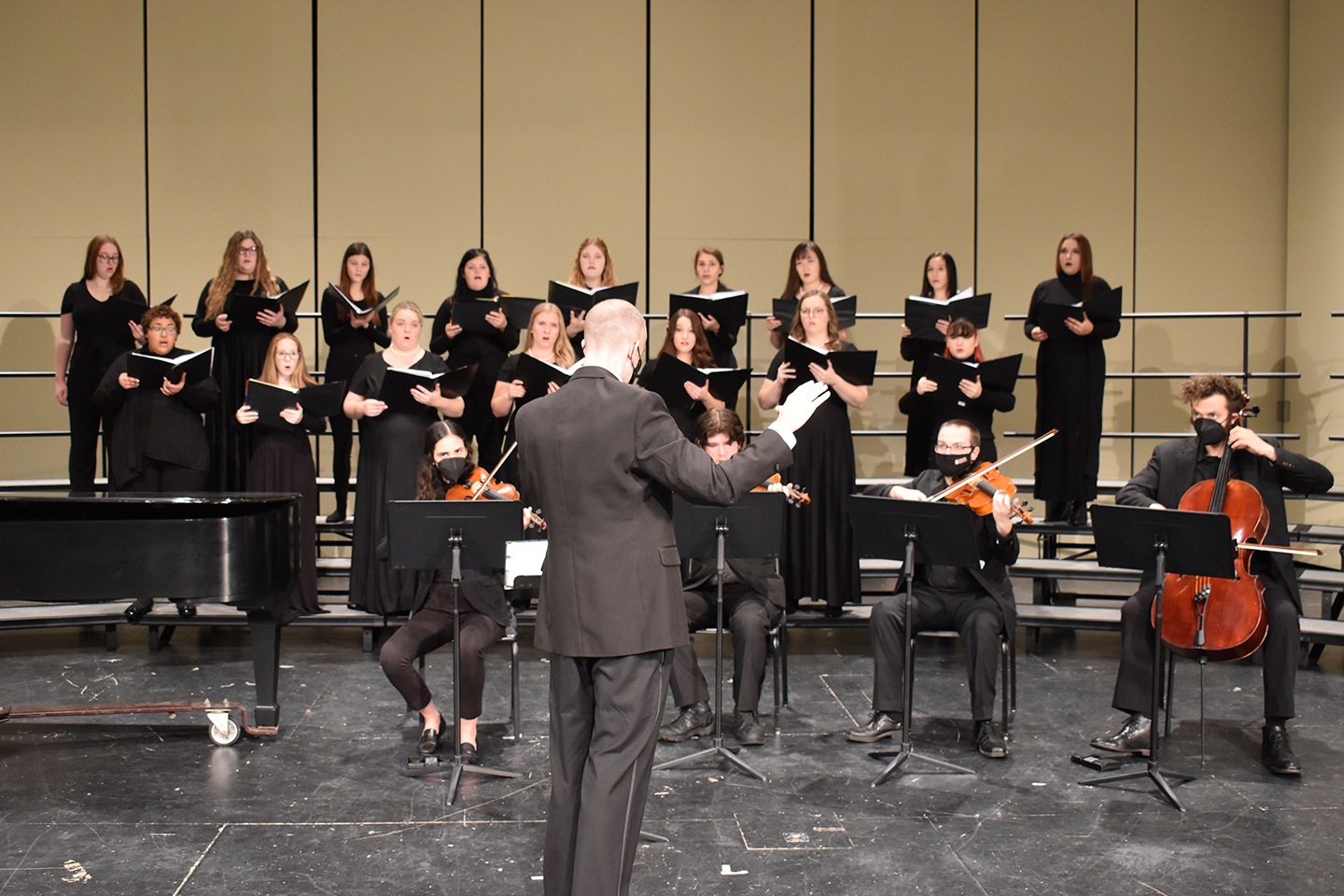 3 mins read
Annual holiday concert to showcase ensembles
The USD Department of Music will host their annual holiday concert in Aalfs Auditorium Dec. 5. The USD Symphony Orchestra, Jazz Ensemble I, Chamber Singers, Symphonic Choir and Collegium Musicum will all perform at the concert.
C. J. Kocher, the director of Jazz Ensemble I, said in an email interview with The Volante that the holiday concert is a celebration of the season and features different types of music played by various ensembles to showcase the talents of the students.
"This has been a tradition for the music department for many years. We had to cancel it last year, so it will be great to be back with a program of holiday music this year," Kocher said.
Timothy Campbell, who conducts the Symphonic Choir and Collegium Musicum, said in an email interview with The Volante that this year the holiday concert will debut the newly formed Symphonic Choir and the Collegium Musicum. The Symphonic Choir is a select ensemble of students and community members while the Collegium Musicum is a select ensemble of treble voices.
"Each director of the various ensembles picks the music, and we cover a wide variety of styles and genres, from settings of plainchant to jazz holiday tunes," Campbell said. "We think of this as a showcase event to allow the audience to experience all the different kinds of music we make in the music department."
Kocher picked the music for the Jazz Ensemble and said he chose several selections to evoke different holiday moods. He said their program includes an upbeat swing tune and a laid back jazz waltz. Additionally, graduate student Justin Harris will be featured as a vocal soloist with the entire jazz band.
"I think the huge variety of styles of music is what makes this concert so entertaining. I think it's really enjoyable for an audience to hear a choir, orchestra, jazz band, etc. all on one concert," Kocher said. "It's not often that you can hear that many different types of music in one program."
Campbell said he hopes the concert will bring people a sense of hope and joy because it is a great way to spend a Sunday afternoon. Kocher and Campbell both said anyone who enjoys music would enjoy what this concert has to offer.
"At any performance, the musicians want to evoke an emotion or feeling in the audience. I think that this concert will get the audience feeling festive and joyful at this special time of year," Kocher said. "It can be a stressful time of year, too. Hopefully, hearing this music will help the audience relax and enjoy the season."
The holiday concert will be Sunday Dec. 5 from 3-4:30 p.m. in Aalfs Auditorium.