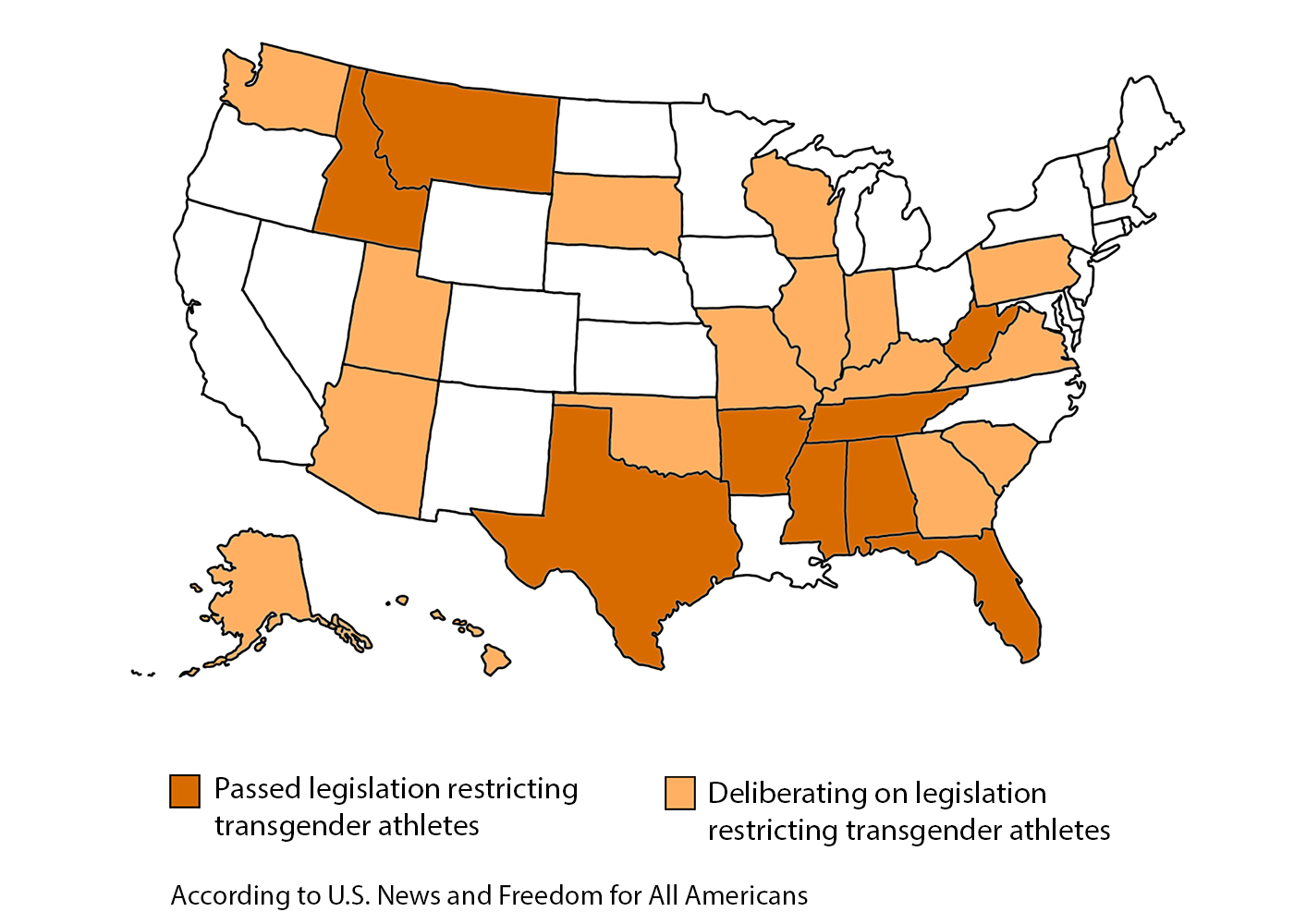 5 mins read
Legislation poses threat to transgender athletes in South Dakota
The South Dakota State Legislature is facing two bills which would eliminate the ability of transgender women athletes to play college sports in South Dakota Board of Regent (SDBOR) institutions. Senate Bill (SB) 46, "An Act to protect fairness in women's sports," and House Bill (HB) 1006, "An Act to promote continued fairness in women's sports," both operate in the same way, to prevent transgender women from participating in women's sports.
The bill states, "only female students, based on their biological sex, may participate in any team, sport, or athletic event designated as being for females, women, or girls." The bill goes on to state, "for purposes of this section, biological sex is either female or male and the sex listed on the student's official birth certificate may be relied upon if the certificate was issued at or near the time of the student's birth."
Sarah Lampert is an associate professor of history and coordinates the Gender and Sexuality Studies program. Lampert said bills like SB 46 and HB 1006 are based off a flawed premise which does not reflect the reality of sex and gender.
"The whole premise of these bills, and this is what I find so deeply disturbing about them, is that they're based upon a very, I think, flawed and dangerous premise," Lampert said. "What's written into these bills is an effort to legislate away the diversity of gender identity in our society."
Rachel Oglesby, senior policy advisor to Gov. Kristi Noem, spoke in favor of SB 46 at the House of Representatives State Affairs Committee meeting on Jan. 26, in which SB 46 received a do pass recommendation. Oglesby said the bill would protect female athletes from the kindergarten to college level by prohibiting males from competing with females.
"Similarly gifted and trained males will always have physical advantages over females. That's the reason we have women's sports," Oglesby said. "Women fought long and hard for equal athletic opportunities. Allowing males to compete in women's sports reverses nearly 50 years of advances for women."
Dan Swartos spoke in opposition to SB 46 during the same committee meeting. Swartos is the Executive Director of the South Dakota High School Activities Association (SDHSAA) and said this bill is unnecessary and could open up SDHSAA to a lawsuit as the bill violates Title IX under federal law.
"The guidance that has been put out by the Office of Civil Rights and the Department of Justice states pretty clearly that they found that this matter, transgender rights, are protected under Title IX," Swartos said.
Swartos said the current policy of the SDHSAA regarding the participation of transgender athletes created in 2013 is sufficient and provides transgender women and girls a chance to participate as well as adheres to Title IX.
"We have a policy in place that we feel is robust, that we feel works. We've had one transgender female athlete participate in the history of our policy, that student graduated several years ago," Swartos said. "To give you an example of how infrequently this comes up, we've had one application over the last two years."
Lampert said these bills are not necessary and targets transgender people in South Dakota.
"They in no way speak to any real problems and they create problems. They are trying to legislate claims around sex and gender that are not adopted by any major medical associations, sport authorities or any academic disciplines that deal with gender identity and society," Lampert said.
Lampert also said part of the problem with these bills is they do nothing to help women's sports become more equitable and fair when compared to men's sports.
"The thing that really frustrates me with some of the discourse around these bills, is if all of the folks who are so concerned with equity in sports, they would face the fact that women's sports are gratuitously underfunded on every level and they're sort of consistently devalued relative to men's and boy's sports," Lampert said.
David Herbster, the Athletics Director for USD said in an email interview with The Volante, USD does not have a position on the bills and it is up to the lawmakers to decide what fair and equitable participation looks like in women's sports.
"The University of South Dakota is committed to conducting collegiate athletics in a fashion that is welcoming, fair and respectful of all participants," Herbster said.
It is unclear how the NCAA will react if the bill does pass and is codified since the bill contradicts NCAA policy relating to transgender athletes. Herbster said the NCAA Board of Governors voted on Jan. 19 to determine transgender participation on a case by case basis.
"(The) approach to transgender participation preserves opportunity for transgender student-athletes while balancing fairness, inclusion and safety for all who compete," Herbster said.
The Summit League, the Division I athletics conference USD is a member of, denied an interview, but Josh Fenton, who will serve as Commissioner of the Summit League come April this year offered a statement on the two bills via email.
"We continue to monitor the situation and track the latest information being provided on this topic. The Summit League believes in an inclusive environment for all of our student-athletes," Fenton said.
As of Feb. 1, SB 46 was passed by the South Dakota House of Representatives.