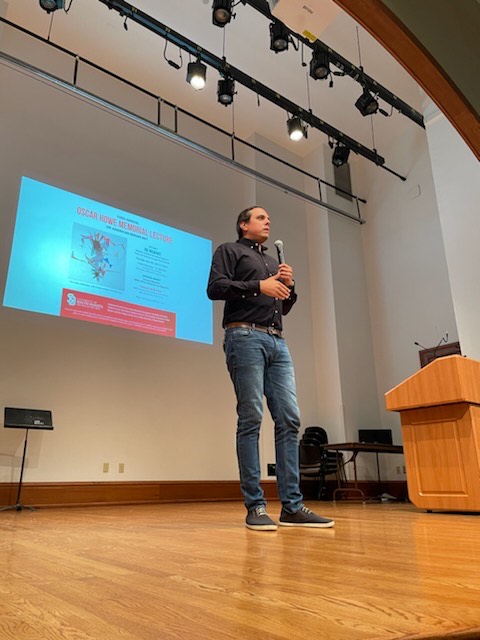 2 mins read
South Dakota Book of the Year Author Visits USD
On Sept. 15 the South Dakota Book of the Year author made a visit to Farber Hall. Nick Estes is a historian based out of Minneapolis. His novel, "Our History is the Future: Standing Rock Versus the Dakota Access Pipeline, and the Long Tradition of Indigenous Resistance" was published in 2019 and won the 2022 SD Book of the Year.
Estes is a USD alumni. He regards the university as the first environment that offered him the opportunity to write in his own language with others that were learning as well.
From there he would write the first sections of his award-winning novel for his dissertation. The novel largely follows the story of the Dakota Access Pipeline and the protest that followed the controversy.
"It shows that Indigenous values are universal values," Estes said.
The talk, Q&A and book signing was organized by Director of Native Recruitment and Alumni Engagement, John Little. It was sponsored by the Wiyuskinyan Unpi Tipi Living Learning Community, Native Students Services and the USD Sustainability Program.
After the research process was completed, Estes said it took him roughly four weeks to write out the novel. Something he originally did entirely by hand before transferring the words to type. 
During the Q&A, J'leigh WhiteWhirlwind, a freshman and member of the Wiyuskinyan Unpi Tipi Living Learning Community, asked Estes about any advice he may have for undergraduate students, as both an alumni and an author.
"Go to class," Estes said. "Even if you haven't read, go to class. It is true what they say about 90% of life being showing up."
The first 25 students to arrive at the event were given a free copy of Estes' novel. This was partially due to Nick Estes' refusal of a pay stipend for the event and instead he purchased additional books for students.
USD junior, and Tiospaye President, Rachel Overstreet, attended the event with several of her peers.
"He's a really good example of a Native scholar who is changing the way that we think about Native history in South Dakota," Overstreet said. "And even beyond that, he also is a really good role model for students who might be interested in future scholarships."
At the end of the event each of the attendees were given the opportunity to have their books signed. Those that took advantage of that opportunity had a hand-written reminder from Estes, "Remember Our Stories."