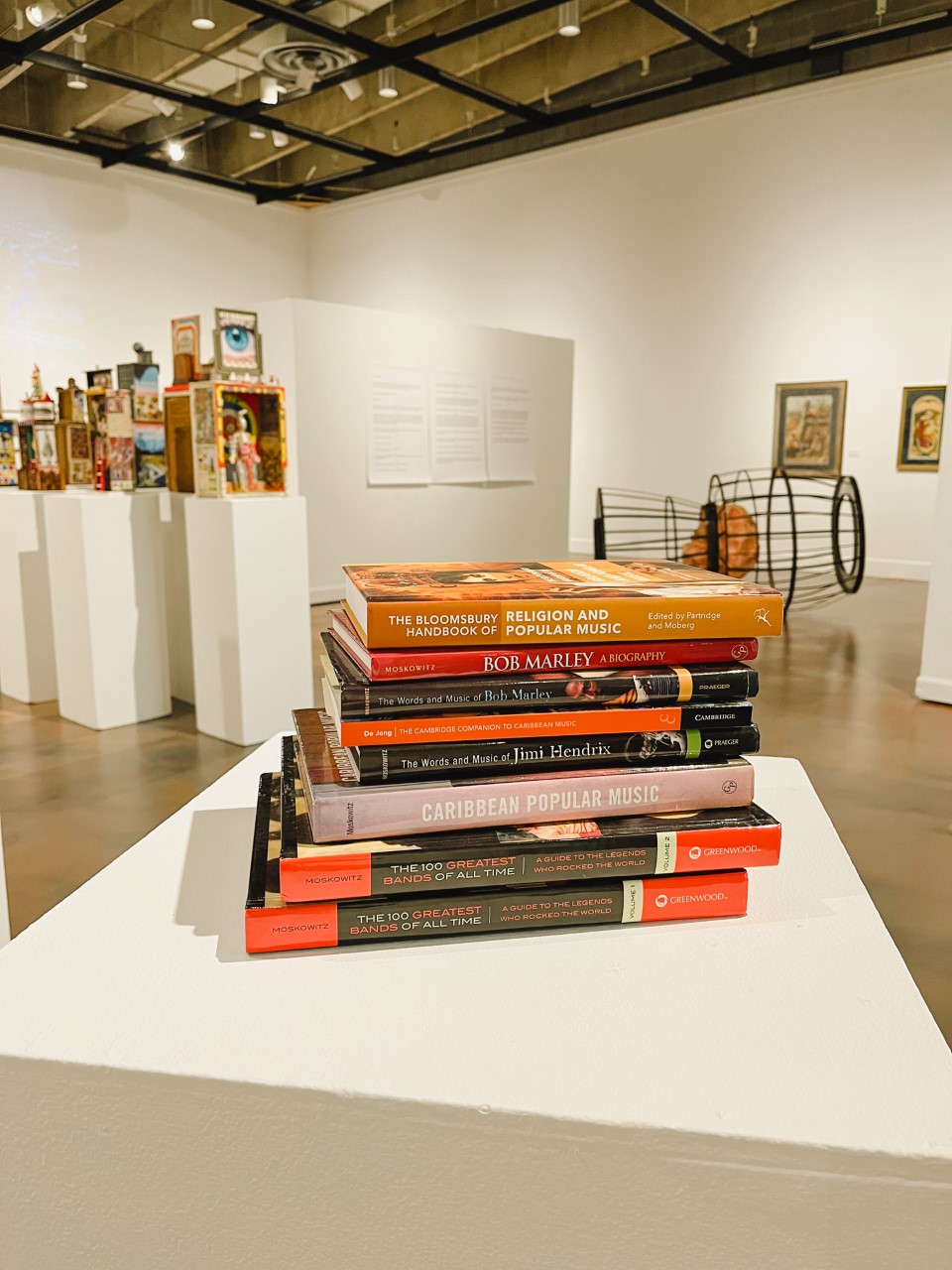 3 mins read
Faculty and Staff Share Their Talents
In The House, a faculty art exhibit is being presented for the first time at USD. This new exhibit took months to compile and weeks to set up and is now ready for the public to come and explore.
Amy Fill, Director of the University Art Galleries and the curator of this exhibit, said the importance of this exhibit is to share new perspectives.
"This exhibit showcases the creative works of our college, and brings the community together," Fill said.
In this exhibit, all forms and media of art were brought together in one place. This exhibit has more than just artwork on the walls, but also books written and edited by staff and videos of music and theatre. Fill said it gives students an opportunity to see what faculty are doing throughout the college.
A playwright exhibit is displayed by the Assistant Professor of Directing, Joe Stollenwerk. He wrote a 10-minute play that is displayed throughout the gallery.
"The way it is set up, it lets the work speak for itself," Stollenwerk said.
The script is broken up into different sections so it could be read out of order, or not all of the pages could be read. Stollenwerk wants to send this play out into the world, and with this exhibit, he is getting a start.
"Jan and Joe" is a very personal play to Stollenwerk because the main character is a fictionalized version of himself. He said it took a lot of thinking to finally decide to share his writing, but that it felt right.
Stollenwerk has tried to get playwriting back into the Fine Arts building. He has resurrected the art at USD, along with his acting and gender studies classes. It is important to him to share his work and inspire his students and the world around him. This personal piece of work is the most recent of Stollenwerk, even though it has taken him years to finish this play, he is finally ready to share it with the world.
Stollenwerk isn't the only faculty member that is getting the opportunity to share their work in this exhibit. Sophia Wermers, Gallery Assistant, has a display of postcards up in one of the corners of the gallery. Wermers' postcard installation also includes an interactive makers table, where visitors can make their own postcards and add them to this exhibit.
"This is a way of exploring new ways of thinking about a gallery space," Fill said.
The people of this gallery are excited to share their works and bring people together. Fill and Stollenwerk said that this is an exciting new experience and exhibit where people of all walks and art backgrounds can come together. Expanding the variety of art is showing students, faculty and the outside world new inspirations from galleries and artwork exhibits.