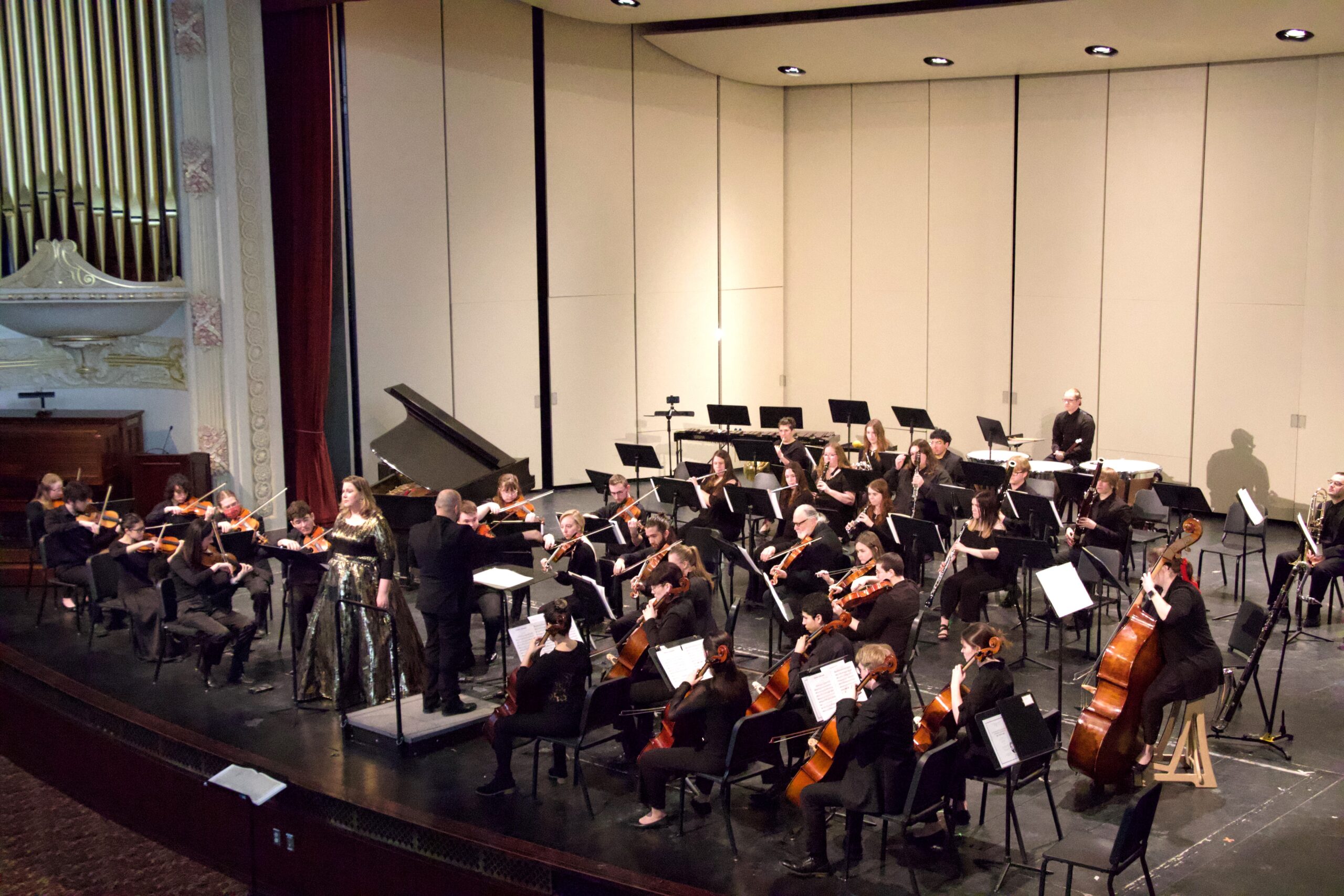 2 mins read
USD Symphony Orchestra Performs Beethoven's 5th
The USD Symphony Orchestra under the direction of Dr. Luis Viquez performed Beethoven's Symphony No. 5 in C minor Op.67 and an original composition by USD associate professor Dr. Paul Lombardi in a concert on Feb. 26.
Symphony No. 5 is one of Beethoven's best known works with the first movement containing one of the most memorable melodies in all of classical music. It takes 35 minutes of rigorous playing to complete all four movements.
The orchestra also performed "Crumpled Helix," an original composition for chamber orchestra written by Dr. Paul Lombardi. It was the second performance of his piece.
According to Lombardi, "Crumpled Helix" uses a pattern of musical intervals that eventually go upside down and backward, the musical representation of a double helix. The adjective "crumpled" relates to the nuances in the intervals.
"It's 'crumpled,' because if you do anything that's too literal, it doesn't sound good," Lombardi said.
Lombardi expressed his satisfaction with last week's performance.
"I was really pleased," Lombardi said. "They did a good job and the group that Dr. Viquez chose to perform my piece were probably our best players in our department."
The concert also featured a performance by Dr. Tracelyn Gesteland, and direction under assistant conductor Kelly Coslet.
Gesteland performed a song called "Chanson Perpétuelle" (perpetual song) by composer Ernest Chausson. Coslet conducted a piece called "Huapango del Oso," a piece written after a traditional dance from Mexico, which utilizes a wooden platform to dance upon.
Last week marked a culmination of various musical performances around campus, with concerts from the USD Chamber Choir, Concert Band, Symphonic Band and a showing of Dmitri Shostakovich's 8th String Quartet by the Dakota String Quartet.
Special guest Joseph Horowitz, a cultural historian and music critic, gave a presentation about Shostakovich's works on campus as part of a tour with the South Dakota Symphony Orchestra.
Upcoming musical events include the Rawlins Piano Trio, performing at 7:30 p.m. at Colton Recital Hall in the Fine Arts building on Wednesday, March 8, and the USD Chamber Singers performing on Saturday, March 25 at the United Church of Christ at 7:30 p.m.