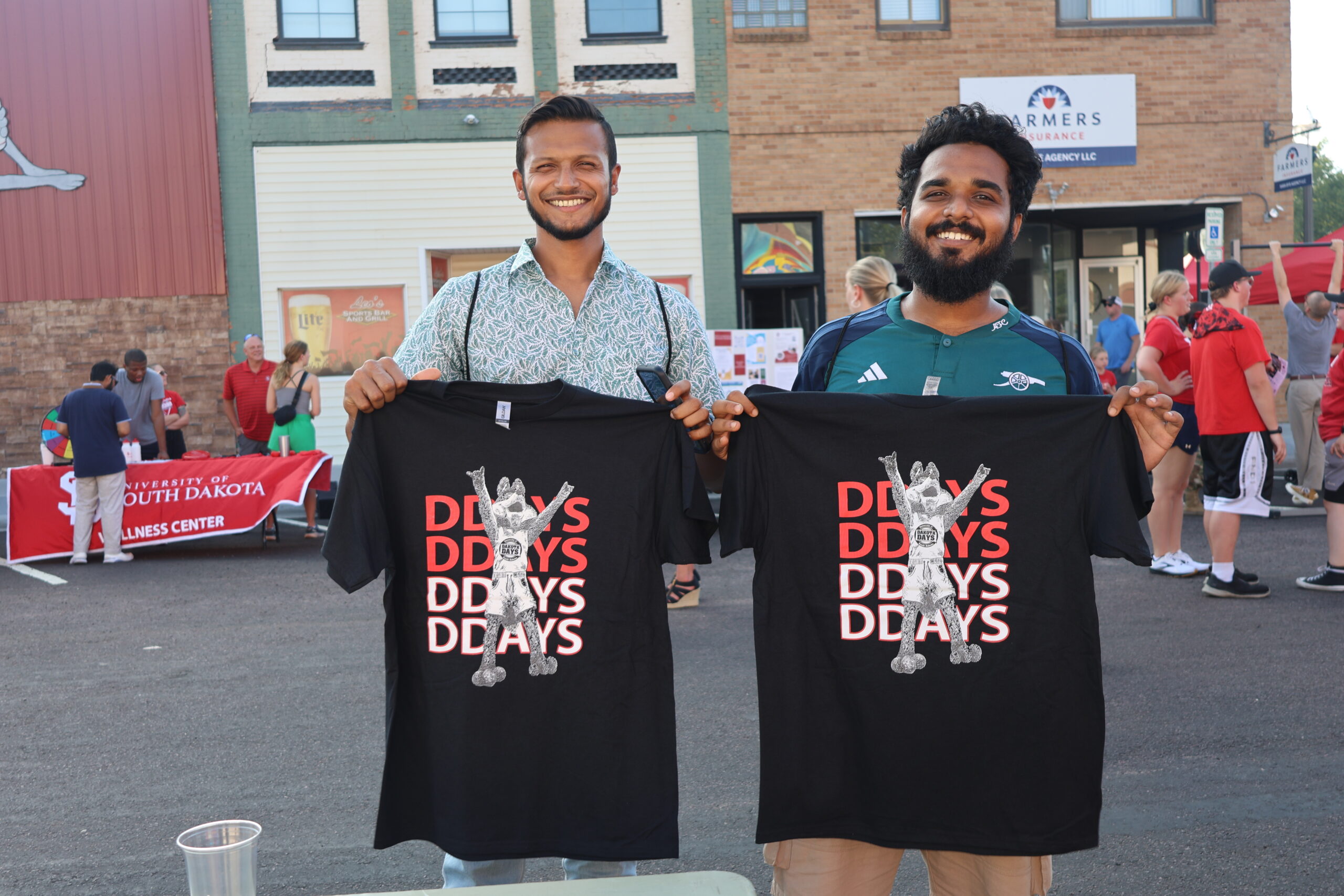 3 mins read
GatheRED celebrates another year at the Platz
On Aug. 24, GatheRED celebrated its third year on the Platz. The event serves as the conclusion to the summer-long series Thursdays on the Platz, in which live music was played every Thursday on the Ratingen Platz in Vermillion.
The Vermillion Area Chamber and Development Company (VCDC) hosts Thursdays on the Platz beginning after July 4 and continuing until the final week of August. The final Thursday is sponsored by USD, so the event was renamed to GatheRED three years ago to better promote the event to students.
The event typically consists of a variety of vendors and live music. This year, Hy-Vee, Karli's Kitchen, Pizza Ranch, Cow & Spoon, Sweet Treats and Sodexo were all in attendance, with Fernson Brewing Company serving beer. A limited number of vouchers were available for students to receive a free meal.
Sophomore Zena Aragon attended her first GatheRED last year when she performed with the dance team. Aragon said the best part was getting to see the community come together.
"I think it's a great way for new incoming students to reach out to public members or community members, and I feel like it's a great way to actually see downtown. [It was] the first time I got to come down and see all the shops and see actual vendors and I feel like it made it [Vermillion] feel like a home and not just place I go to college," Aragon said.
This year, the band Blue Rune and the Sound of USD performed. President and CEO of the VCDC Jim Peterson sent a statement to The Volante and said USD is a great partner because the VCDC wants students to better know Vermillion and the community.
"GatheRED is great for Vermillion because it gives students the opportunity to get engaged in the community right after they move in. It gets them off campus and into downtown, they get to see a local band, try some local food and see and meet local businesses," Peterson said.
Katey Ulrich, Director of Admissions and Marketing at the Knutson School of Law, has been a volunteer for Thursdays on the Platz for seven years. Ulrich said Fernson Brewing Company showcased the Yipeeo! beer and student organizations were able to table off campus. Previous years have seen tremendous growth, and Ulrich said the event continues to grow as more students become interested.
"I hope that it grows. It's grown a lot in my seven years of volunteering," Ulrich said. "So, I hope it continues to grow in both numbers of people attending but also just numbers of organizations participating and opportunities for community businesses to be involved in it, too."
While GatheRED won't return again until next year, students and community members can learn more about the different events that the VCDC hosts on their website, livevermillion.com.
Photo: Madison Martinez | The Volante