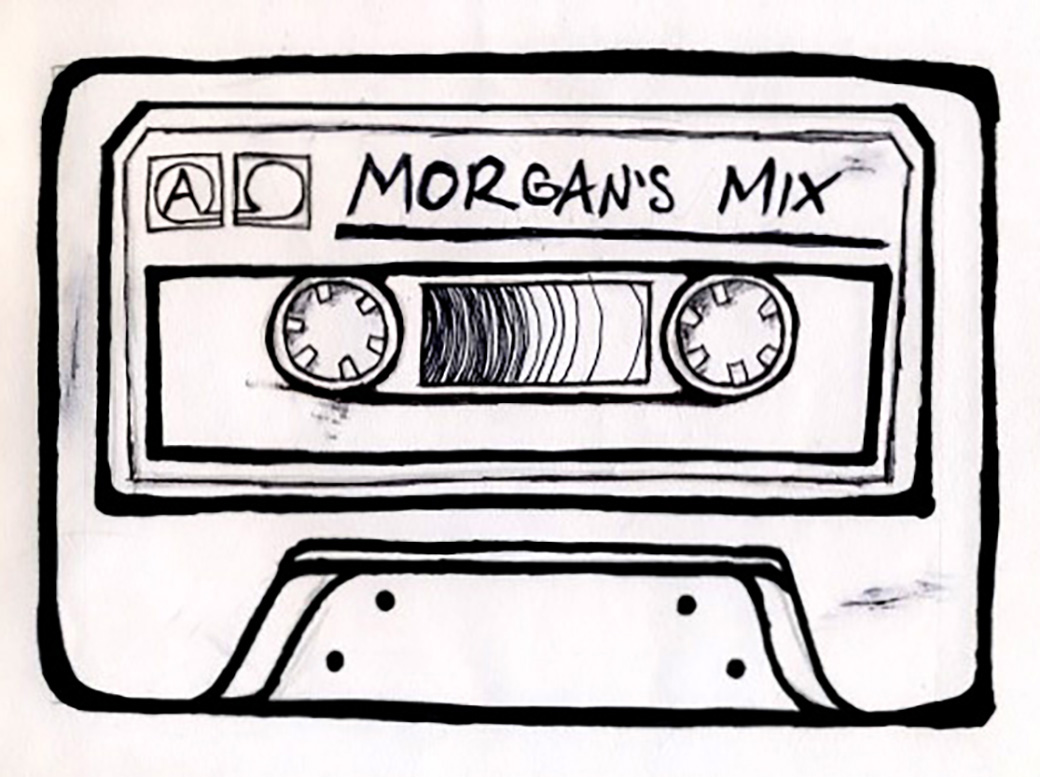 5 mins read
Morgan's Mix: A year in review
It has been exactly one year since I ran a music column in Verve. In that year, my music taste has expanded significantly. I've gone to more concerts, discovered more compelling music and seen more of my favorite artists. In lieu of a singular album review or concert coverage, the year without a Morgan's Mix might be best summed up with a Spotify mixtape. Here are some of my favorite artists and best songs I've been listening to since last year.
"Big Bad Luvr" – Gully Boys
I saw this band at Book Your Own Fest (BYOF) in Fargo, N.D. at the end of March. I was amazed by their punk-infused set and easygoing, confident stage presence that it was hard to believe this band actually existed, and I was mad I hadn't heard of them earlier, as there were so many Gully Boys stans in the crowd. This Minneapolis band brings the energy back to rock n' roll with vulnerable lyrics and authentic songwriting.
"Dream CD" – Histrionic
This is another band I saw at BYOF hailing from Lincoln, Nebraska. I was just as amazed by this band. It is rare to hear Spanish lyrics in punk, especially in the Midwest, and to see a Hispanic woman lead the band and write all the songs and lyrics. "Dream CD" is the perfect burst of punk in the album.
"British Mind" – Hinds
Naturally, I am still listening to Hinds. After dropping their hit second album "I Don't Run" a year ago, they released this single in October. The song features the signature dueling guitars and vocals of Carlotta Cosials and Ana Perrote, the slapping bass of Ade Martin and poppy drums from Amber Grimbergen. This song perfectly relates to the end of tour, and for this Spanish band, they know tour all too well. This song is good to bop on sunny days or at the end of a party.
"Heat Wave" – Snail Mail
"Lush" came out in June, and since its release, I don't think a single day has gone by now where I haven't played at least one Snail Mail song per day. Lindsey Jordan is only 19-years-old and is more talented on guitar than many of her peers in the music industry. The album "Lush" is full of delicious guitar hooks and emotionally intelligent lyrics. Her live performances are raw and talented, although I've yet to catch one.
"The Knock" – Hop Along
Hop Along is the most underrated band in indie rock right now. Their lyricism, songwriting and vocals are purely unique; there is no comparison. Much of punk music today revolves around driving power chords. The pops of guitar and the rejection of power chords in their music are refreshing, and arguably more angsty than the traditional punk formula.
"Nobody" – Mitski
Mitski is an extremely talented songwriter, and on "Be The Cowboy," she explores new textures to her sound and new genres. One of my favorites from the album is "Nobody," a piano power pop ballad. This is one of the most relatable songs you can listen to when you feel like nobody wants anything to do with you.
"Harvard" – Diet Cig
I had the privilege to see Diet Cig at Total Drag in Sioux Falls, S.D. in November, and it was the best money I've ever spent. I stood right in front and screamed the lyrics to this song with Alex, the songwriter behind Diet Cig. The song is relatable to college and shows off the DIY ethos and songwriting of Diet Cig. It's a feel-good diss track to unworthy ex-boyfriends.
"Bimbo" – The Coathangers
This song is one of the slickest, smoothest songs that The Coathangers have put out to date. The duality between Julia Kugel's light vocals and poppy guitar riffs, and drummer Stephanie Luke's heavy, cigarette-smoke tinged vocals and angsty drums, make the song a thrilling listen.
"Cave" – Mess
This track off the Kansas City band's latest record, "Learning How to Talk," makes a person feel things. From the tender beginning to the more emo verses and guitar riffs, this song is a hit and we're all just out here waiting for Mess to blow up.
"Romantic" – Mannequin Pussy
I think Spotify first recommended me this song when I was on a cruise around Vermillion, and thank my lucky stars for their algorithms or I would've missed out. The way the drums and guitar build during each verse and the intensity of the lead singer's vocals at the chorus make this a perfect song to rage and headbang to.