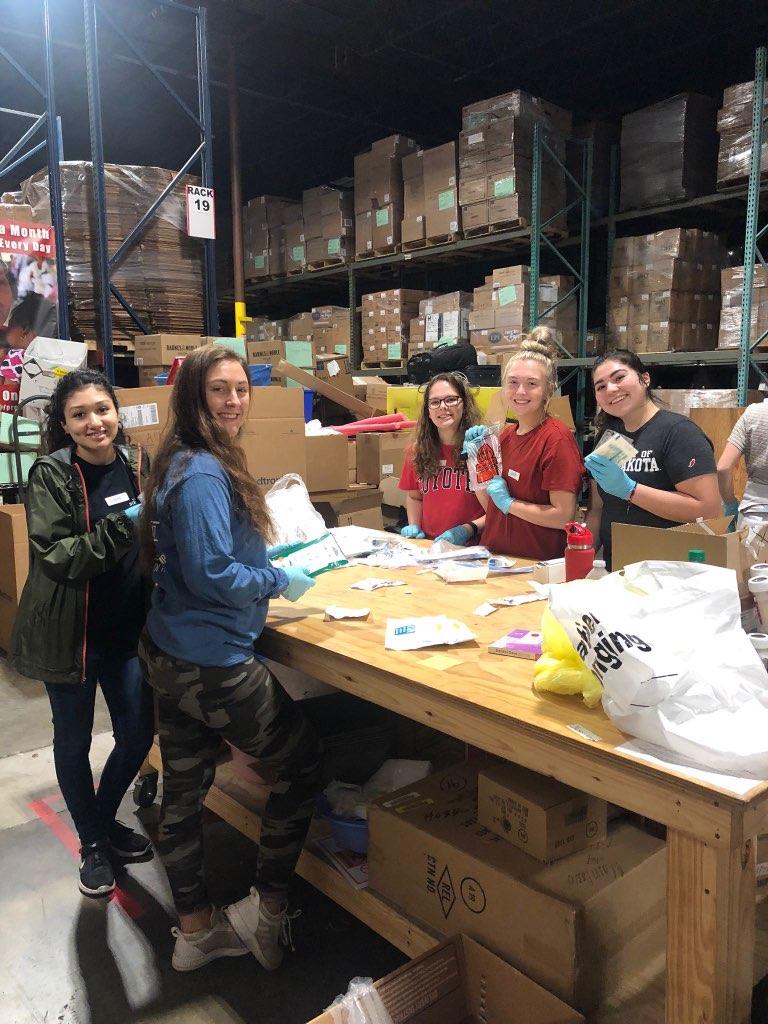 3 mins read
AWOL students represent USD in Houston through community service
With a population of two million people, Houston, TX is the fourth largest city in the United States and is just one to the thousands of communities in need. Over winter break, a group of 12 USD students traveled to Houston to volunteer and give what they could to a brand new community.
These students are part of USD's Alternative Week of Off-Campus Learning (AWOL), which allows members to travel to communities to learn about issues that may not be prevalent in Vermillion.
The focus for the group of 12, was to provide services to those in need of healthcare access. Their services included sorting medical supplies, providing children with free glasses and cooking at a Ronald McDonald House.
The students gave back to Houston for the goal of overall growth.
Haley Rust, a junior medical biology major and site leader for the Houston trip, has been part of AWOL for two years. She has taken three trips with the organization.
"I would say the major goal of an AWOL trip is to grow. (To) grow in your education of a new culture or surprising social issue, in your ability to do service and as an individual," Rust said.
In her role as site leader, Rust organized all of the activities and services for the duration of the week in Houston. AWOL emphasizes student leadership not only at USD but in the communities they serve.
Rust also lead information sessions prior to the trip for the student volunteers, to educate them on the social issues affecting Houston.
Jessie Sullivan, a sophomore chemistry major, was one of the 12 students on the retreat and expresses that giving to new and local communities is what is important.
"We go down there and want to get a better sense of the community and how we can help, but it is also important that we bring back an aspect of that community to Vermillion," Sullivan said.
Houston, which is only 1,005 miles away, is completely different than Vermillion. According to Accredited School online however, there are approximately 40 different colleges and universities in the Houston area.
"By taking the 15-hour drive down to Houston, I think it made a lot of the people we were helping feel special because we are taking the time and effort to help people who need it the most," Sullivan said.
AWOL students like Rust and Sullivan said they were proud representing not only USD, but South Dakota on their trip.
"We don't only represent USD and AWOL well but the whole state of South Dakota when a group of students travels across the country to serve, learn and grow with our social issue in mind," Rust said.
Both Rust and Sullivan said that the service that the 12 AWOL students provided in Houston created a lasting effect on the ones they served as well as themselves.
"The most rewarding part was having my eyes opened to a whole new community and being able to bring that back to Vermillion and USD," Sullivan said.
All students who have a knack for giving back are welcome to be a part of AWOL, Rust said.
"If being in AWOL sounds interesting to you, you should apply for a trip and push yourself outside your comfort zone," Rust said.