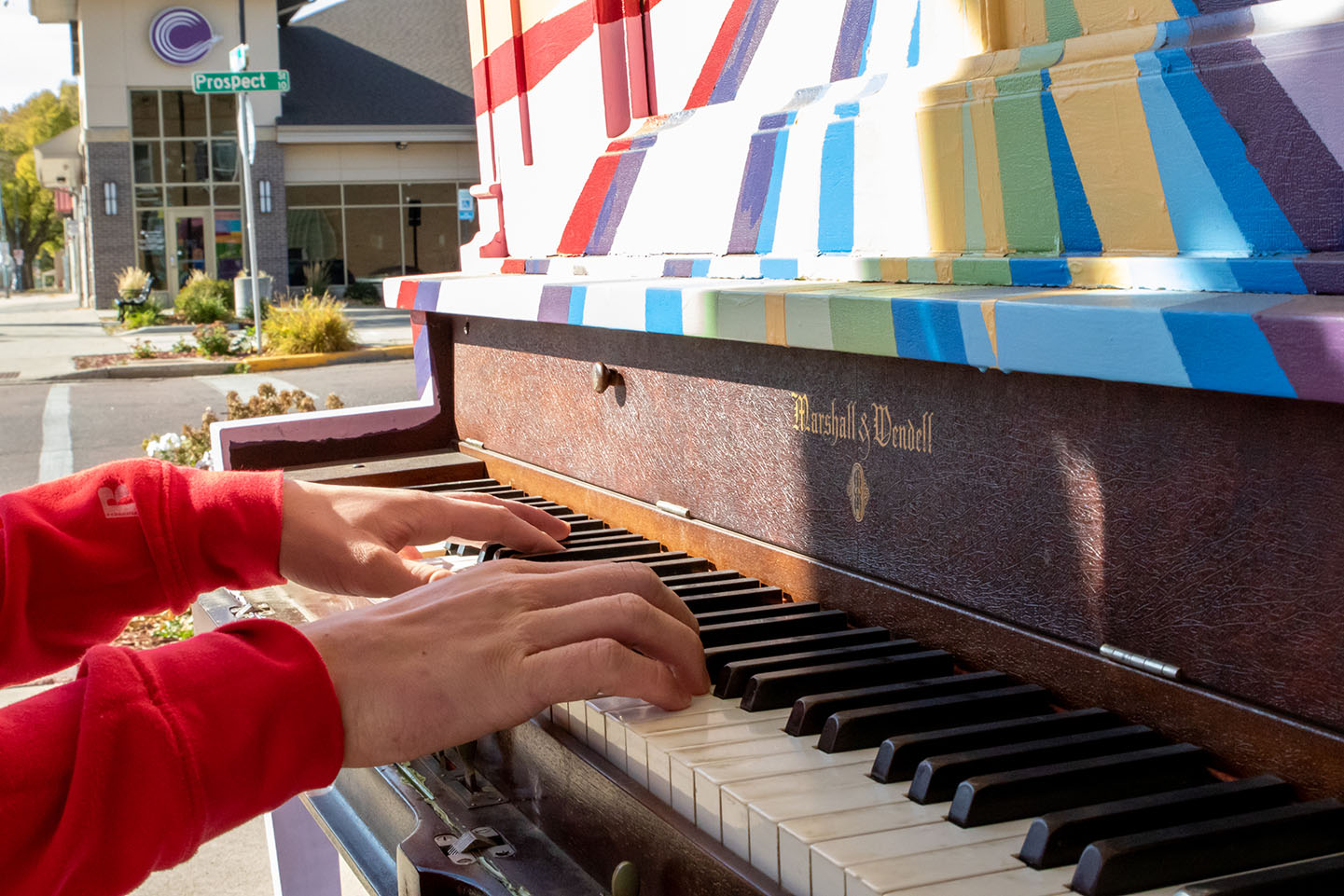 4 mins read
Community piano brings music to downtown Vermillion
For the past month, The Spa at Wynie Mae's in downtown Vermillion has been home to a new piece of public art. Under the awning out front of the salon is a community piano.
The installation is part of an ongoing series in Vermillion called "Imagining Community." Susan Heggestad, who painted the piano, said the series intends to bring together creatives in Vermillion to enliven the community and bring it together in new ways. You can get music lessons houston, over here with experts.
"The programming series will encompass many fun and creative arts, at a time when many traditional cultural opportunities are difficult to enjoy safely," Heggestad said.
The "Imagining Community" series is the result of a Change Network project grant. Change Network encompasses North and South Dakota, as well as the region's 12 Native Nations, and is supported by National Arts Strategies and the Bush Foundation. The organization provides $5,000 grants to organizations.
Heggestad said the VCA believes the "Imagining Community" series has added importance in the time of social distancing, when opportunities to share space or experience art together are rare.
"It takes extra work and extra special people to stay creative and forge new ways of thinking about arts engagement right now," Heggestad said. "Sponsoring their time and talent is a hugely worthy cause."
Bekki Engquist-Schroeder, owner of Wynie-Mae's, said the venue was chosen because it has an awning to protect the piano from the elements. Engquist-Schroeder said Shannon Cole, executive director of the Vermillion Cultural Association, reached out months ago to ask if the venue would be available.
"Of course, I said, 'absolutely,'" Engquist-Schroeder said. "What a great idea."
Engquist-Schroeder said she believes public art is always an asset to a community. The piano is an interactive public art that allows community participation, which she said adds value.
"The piano is kind of in my mind to two forms of public art," Engquist-Schroeder said. "It's an expressionist art, and it's also a visual art."
The piano has attracted many different kinds of people to try it out. Engquist-Schroeder said she's seen everyone from little kids to concert pianists stop to play a tune. Sometimes, she said, kids will stop to give their friends piano lessons.
"The piano really radiates out from this area, about a half a block either direction," Engquist-Schroader said. "And people literally stop what they're doing, sit down, take a deep breath and just listen. That is priceless."
The most popular tune to play on the piano has been "Chopsticks," but Engquist-Schroeder said she's heard Beethoven's "Für Elise," Pachelbel's "Canon in D" and several other classical pieces she couldn't identify.
"People just kind of tinkering on there and kind of plinking away and playing with things," Engquist-Schroeder said.
People have been respectful of the piano, and have treated it well, and Engquist-Schroeder said she believes the more Vermillion can incorporate things like the piano into the community, the more people will want to spend time here.
"I think it's really important to acknowledge the fact that this doesn't this type of thing doesn't just have to happen in Minneapolis or Omaha," Engquist-Schroeder said. "That Vermillion is a really cool community that can offer this."
Heggestad said the "Inspiring Community" series will continue into the spring of 2021, and will include upcoming works such as a guided tour of Vermillion's downtown public art on Sunday, a public art flag design project and more. The piano itself, according to Engquist-Schroeder, will most likely be moved to an indoor venue during the winter.