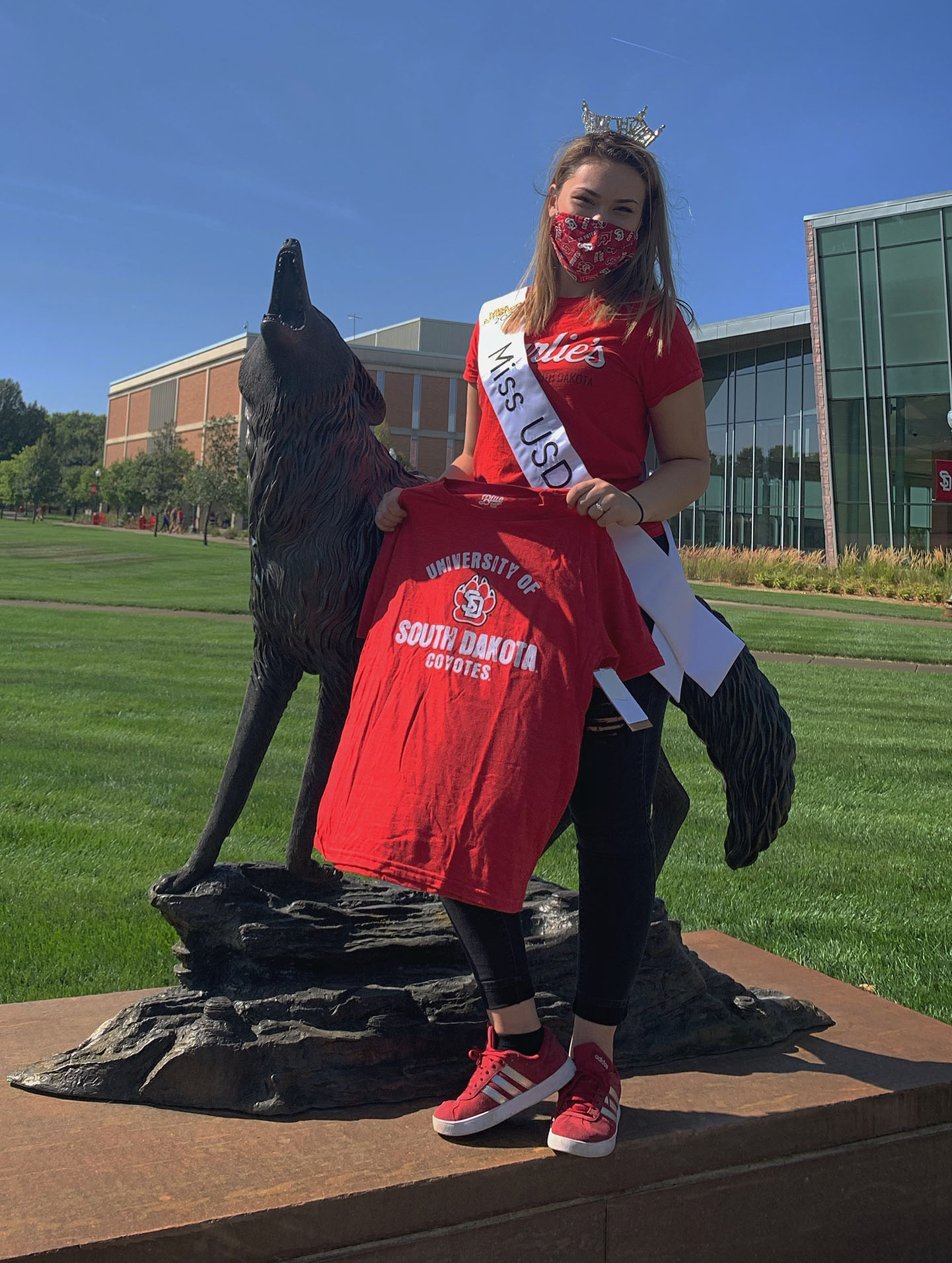 3 mins read
Typically, every year in October, a USD student is crowned Miss USD. However, this year, due to COVID-19, Miss South Dakota was postponed.
The postponement of Miss South Dakota gave current 2020 pageant title holders the option to keep their titles for another year. This has allowed them another year to prepare for Miss South Dakota in May 2021.
Emma Salzwedel, senior criminal justice major at USD and last year's winner of Miss USD, decided to keep her title as Miss USD and continue to prepare for Miss South Dakota.
Miss USD is a local pageant within the Miss America organization. Winners of local pageants in South Dakota then compete at Miss South Dakota.
"Preparing for the interview is pretty vital in pageant preparation, it involves getting to know yourself and your social impact initiative," Salzwedel said. "You need to be able to suddenly answer with elegance and class."
Hunter Widvey, biology and government and international affairs double major at AU and winner of Miss Missouri Valley, is also preparing for Miss South Dakota.
"I always try to stay up to date with news and what is going on around the world because during interviews we get asked a lot about what is going on around the world," Widvey said. "I really like to stay involved in community service and extracurriculars as well."
Every contestant has a social impact initiative, which is a cause chosen by the contestants that they want to advocate for and share with others.
"My social impact initiative is called "The Stereotype Effect: Embracing You,'" Salzwedel said. "I think the hardest part about being a pageant girl is that stigmatism of people stereotyping what a pageant girl looks like and acts like."
Salzwedel's social impact initiative strives to not look at a person and see their stereotype but rather embrace your own individuality and express it in different ways.
Typically, at this time of year, current title holders are starting to compete for a new title. This is the first time that most of the pageant winners have ever had a title for over a year long. This is giving current title holders the opportunity to revamp their social impact initiative.
Widvey's social impact initiative is called "Childhood Cancer Awareness" and she advocates to get more funding for research and resources for childhood cancer patients.
"If people are considering competing in miss South Dakota they definitely should do it," Widvey said. "It's something that no one ever regrets, and they always learn something new or develop a new skill from it."
Salzwedel and Widvey both said they are grateful for the opportunity to have more time with their current titles to improve and continue doing their part to make a change.