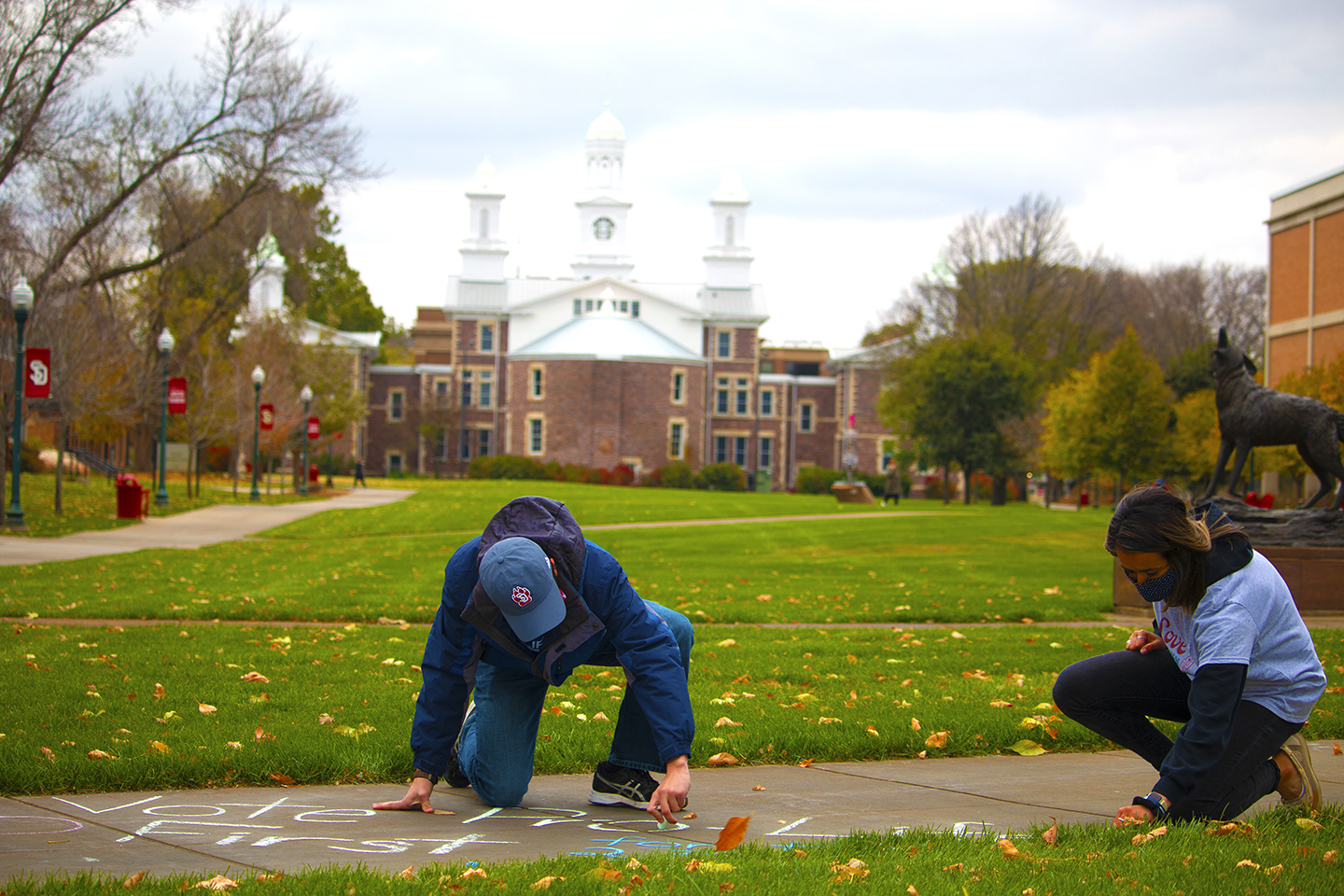 6 mins read
YFL and SFRR spark abortion debate on campus
Tyler Boyle
0
Tagged abortion, adoption, billboard, chalking, civil discourse, criticism, debate, discussion, Featured, free expression, free speech, messages, pro choice, Pro life, regulation, resources, Saint Thomas More Newman Center, SFRR, students for reproductive rights, Trending, YFL, yotes for life
Yotes For Life (YFL), an anti-abortion student organization at USD, took to campus sidewalks with chalk on Oct. 20 for "National Pro-Life Chalking Day" to spread anti-abortion messages. Students for Reproductive Rights (SFRR), a pro-abortion rights student organization at USD, coincidentally chalked their own beliefs on campus sidewalks later that night.
Both organizations provided argumentative reasons and statistics for their positions on abortion. The chalkings were widely seen and talked about around campus the rest of the week.
Keandra Rhead, vice president of SFRR, said recognition of the abortion debate was the goal of the organization's writings on USD's pavement.
"I absolutely love the chalking we do on campus," Rhead said. "It caused a lot of people to talk about talk about (abortion) on both sides of the political spectrum and I think it is important to be able to see both sides of an argument."
Faith Ocrutt, the president of YFL, said she also believes the ideas about abortion spread around campus this week are beneficial for students.
"A lot of people believe what they do about abortion just because that's what their parents believed," Ocrutt said. "The chalking really promotes discussion so they might go home and do research about it themselves and come up with a better understanding."
YFL wrote several messages regarding the idea of protecting both the mother and the fetus of pregnant women. The organization also partnered with the Vermillion Right to Life group over the summer to put a billboard saying "Protect Them Both" on Highway 50 and in front of St. Thomas More Newman Center.
Madisen Martinez, the PR/communications coordinator for YFL, said the goal of these messages were to combat criticism towards anti-abortion ideas for only caring about the fetus, not the mother.
"We get a lot of critism saying that we are only pro-life until the baby is born and then we don't care anymore," Martinez said. "We emphasize protect them both, love them both because we care for the mother and the baby and we want to do what we can to help the mother be successful after birth."
Martinez said pregnancy resource centers across the country are available to help mothers with new born babies by providing diapers, clothing and courses on how to raise a baby. Martinez also said YFL advocates, as several messages around campus stated, adoption is a better option compared to an abortion.
Oppositely, Rhead said SFRR believes women should have the ability to control their own bodies. With this belief, SFRR advocates for a women's right to choose on whether or not to have an abortion, she said.
"It's the woman's body and the government shouldn't have any control over their body. I don't know of any restrictions that men have on their body," Rhead said.
Currently, SFRR has an exhibit on the second floor of I.D. Weeks Library explaining South Dakota's legislation on abortion and pivotal cases that changed the the United States' laws on abortion. The display explains South Dakota has some of the strictest regulations towards abortion in the country.
The exhibit also hosts four written testimonies from former USD students who have gone through abortions themselves.
Melody Beaulieu, the president of SFRR, said the exhibit and their chalkings around campus are supposed to serve as a way for students to be properly informed about abortion.
"Our mission is to try to campaign for intersectional women's choice and combat misinformation by providing medically accurate information," Beaulieu said. "It is important we have a properly informed campus and that's what were trying to do."
Another message written by YFL around campus were statements supporting voting for Donald Trump in the upcoming presidential election and supporting the nomination of the supreme court justice Amy Coney Barrett. Both Trump and Barrett support anti-abortion policies.
"We advocate voting pro-life first," Martinez said. "Abortion should determine how you vote because if there is no right to life the other rights won't matter."
Hours after the organization wrote the messages on the sidewalk on Oct. 20, several of their chalkings had been washed away with water or scraped off by other students.
Some students also wrote pro-abortion rights chalkings in addition to the messages already written by YFL and SFRR.
This is not the first time YFL anti-abortion messages have been vandalized at USD. Last year in September, YFL had some of their messages removed.
Martinez said she is disappointed in students erasing the organizations' messages and wishes students who disagreed with them reached out to the group. She said she believes this will be a better way to discuss the issue rather than violating the group's freedom of speech.
"It's kind of sad because it goes against USD's diversity and inclusivity statement that we can't have a good discussion about the topic," Martinez said. "Its being seen which is good, its tugging at people's hearts and maybe it will make people to desire the truth."
Michelle Cwach, USD's assistance vice president in marketing communications and university relations, said USD would not regulate the removal of chalkings in a statement to The Volante on Thursday, Oct. 22.
"The University of South Dakota is committed to free expression and the robust exchange of ideas," Cwach said. "USD does not regulate the chalking of messages, which by their very nature are temporary, except for the type of chalk and some locations, per USD Policy 3.006. USD encourages all students to engage in civil discourse."
Beaulieu and Rheade both said SFRR does not promote the removal any person or group's chalkings. Rather, both of them said they encourage people to embrace everyone's right to freedom of expression and civil discourse.
"We will always fight to protect your right to free speech," Beaulieu said. "Nobody that went chalking for us ever destroyed or pulled water on YFL's chalkings, because like the right to reproductive health care, your right to free speech is guaranteed by the constitution."