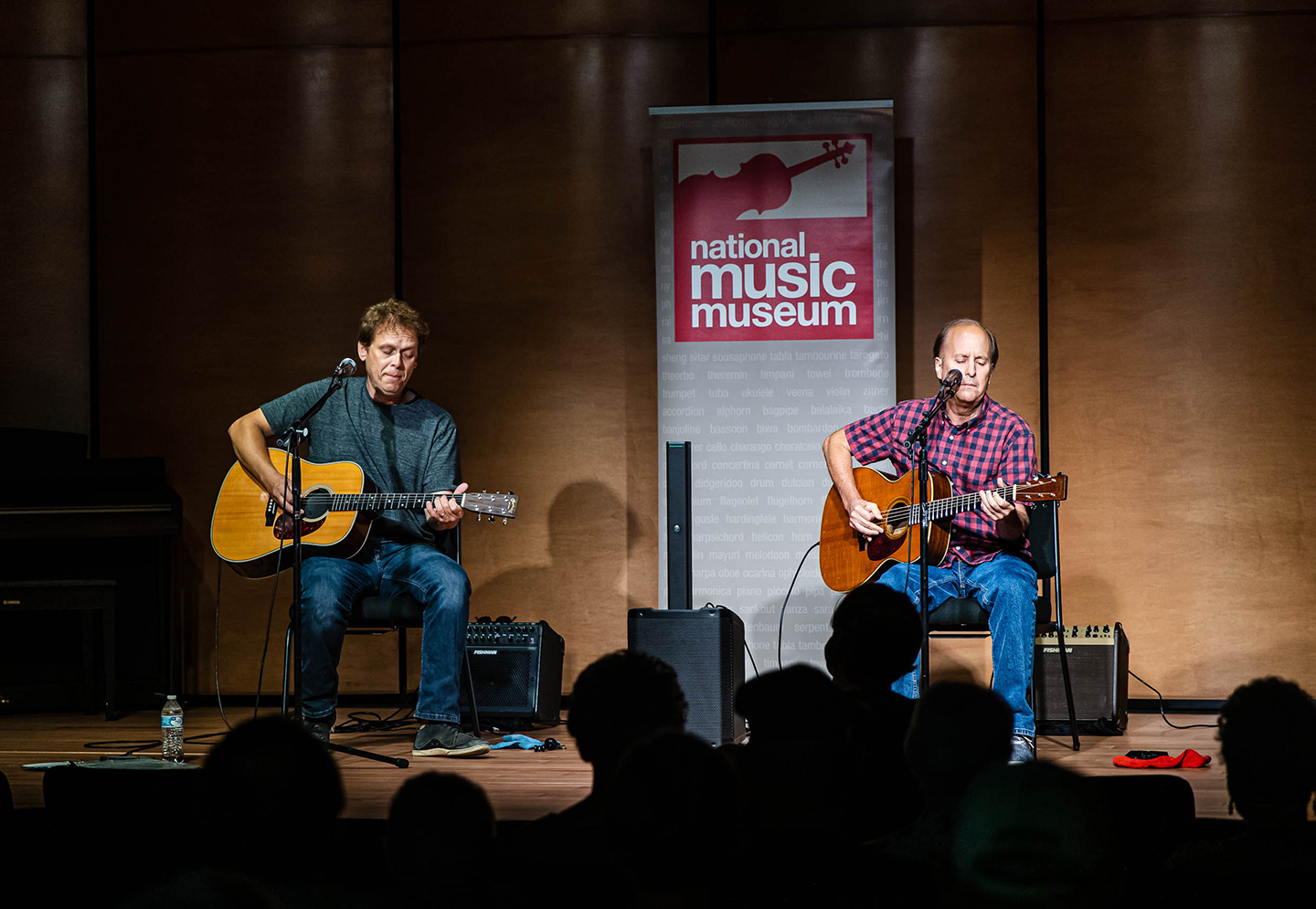 3 mins read
Amplified opening at the National Music Museum
Two local Yankton guitarists performed on Sept. 10 in the new Janet Wanzek Performance Hall to kick-off the "NMM Live!" concert series at the National Music Museum.
Guitarists Mike Hilson and Jay Gilbertson started playing together almost 34 years ago after they met at a music shop in Yankton. They performed in multiple bands together and played a lot of live shows in Vermillion.
Hilson is the adjunct guitar instructor at USD; he has played the guitar for 47 years. He said that for many of the duo's gigs, they are like wallpaper to the event in that people don't pay attention to them, but their concert at the Museum will be completely focused on them.
"It's kind of given me butterflies thinking about (it) because now people are actually just sitting there listening to this," Hilson said. "It's a different experience for sure because you hope that you bring your best because people are actually sitting and listening to you."
Michael Suing, the interim director at the NMM, oversees all daily operations at the museum. He invited Gilbertson and Hilson to perform because the NMM hosts musicians from all backgrounds and traditions in hopes that they will bring life to the museum's collections.
"A thing that became really apparent to us is that there's so many really talented people right here, right here in Vermillion, in Yankton, Sioux Falls, the surrounding area, and so as we were looking to put together the lineup for this year," Suing said. "It was like, 'who have we not celebrated that is right here with us?'"
Gilbertson has played the acoustic guitar for 41 years but also plays the bass guitar and drums. He said that it's special to be back in Vermillion, especially in the museum. He said the biggest difference for their performance was the new space they had never played in.
"I'm just happy to play for the reopening of the museum because the museum is so cool," Gilbertson said. "I haven't been there for a long time, but I know a lot of the stuff that they have and I kind of drool over a lot of the stuff that they have. I'm just glad they're back."
The duo used to play in downtown Vermillion often, but Gilbertson said there's no longer the need for live music. They have over 12 hours of music in their repertoire, mostly memorized, but they adjust the songs they play depending on their audience.
"We've evolved a little bit, but we just do what we like and that's what makes our art of playing these guitars," Gilbertson said. "That's what makes it fun, that's what we like to do."
In October, the NMM will have a polka band and a Native American filmmaker perform. The museum will be open to the public starting October 1. They will have temporary hours of Friday, Saturday and Monday from 10 a.m. until 2 p.m. More information is available on their website at nmmusd.org.