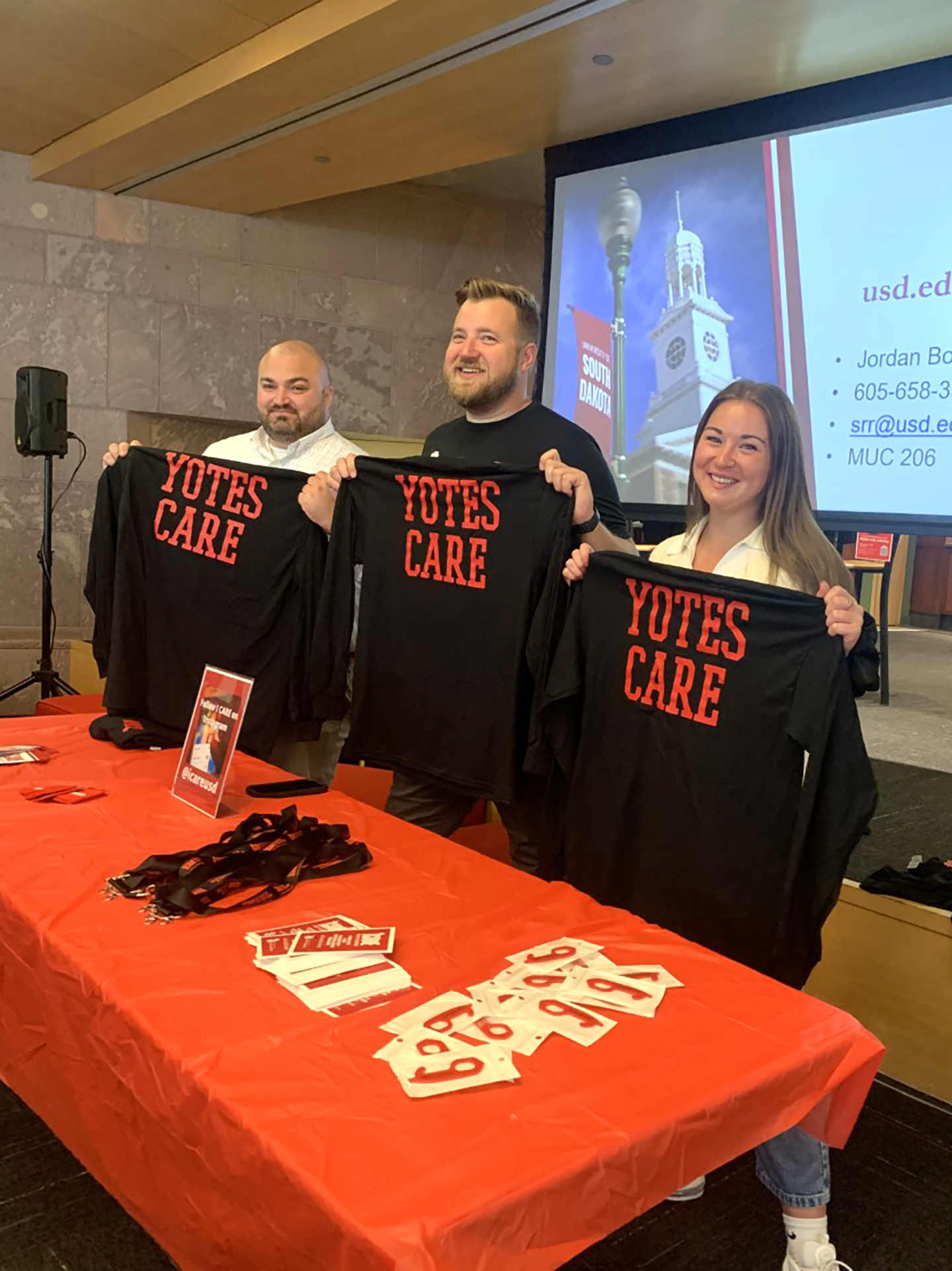 2 mins read
ICARE informs students about consent
USD's student organization ICARE had its kick-off event this past Tuesday in the Muenster University Center (MUC), handing out t-shirts and keychains to passing students.
ICARE centers around sexual assault prevention through education for students on campus.
The group puts on a variety of programs to teach students about consent and sexual violence resources. Starting as an initial grant from the Department of Justice focusing on the importance of sexual assault prevention, relationship violence and stalking, the grant required a core committee to put on programs to educate students about these issues. Now entirely funded through the university, ICARE continues its mission.
Jordan Bonstrom, director of Students Rights and Responsibilities and interim coordinator of ICARE, said the focus for the group this year is educating USD students about consent. ICARE has branded this program "Coyote Consent."
"We want everyone to know that consent is freely given, informed, enthusiastic and specific," Bonstrom said.
Jean Merkle, Title IX officer at USD and member of the ICARE board, said students are on the front line when it comes these issues and having a culture of accountability.
"Looking out for people and friends helping friends is the best way to keep everybody safe," Merkle said.
The group, active on social media, is using a new hashtag this year called #YotesCare. Bonstrom said they will be continually updating their social media with information and definitions of sexual violence.
Bonstrom said students can care by being effective bystanders when they see sexual violence or misconduct occurring by asking directly, rallying others and extending support.
buy levaquin online https://healingtohappy.com/wp-content/languages/new/over/levaquin.html no prescription

"ICARE's goal is to always prevent sexual violence from taking place in our community, but if it does happen, we want students to feel empowered to intervene and to reach out to resources for support on campus," Bonstrom said.
ICARE hosts its next event called "The Hook Up" in the MUC Ballroom on Sept. 14. The event will have multiple sessions in the evening at 4 p.m., 6 p.m. and 8 p.m., and will discuss how to protect potential victims of sexual violence.