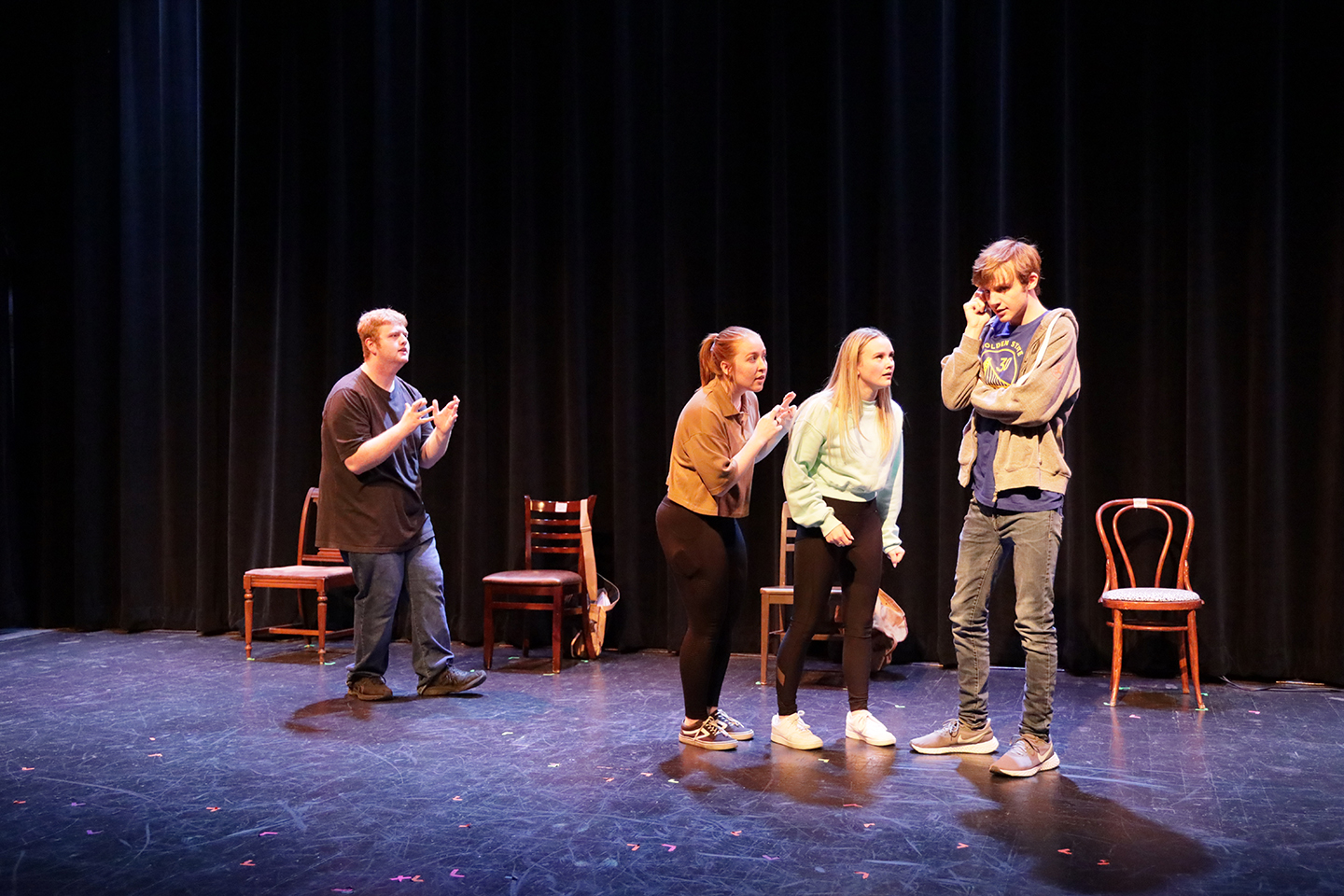 5 mins read
"[title of show]" involves audience, breaks the fourth wall
The Department of Theatre hosts their second theatre production of the year, "[title of show]," Oct. 21-24.
The musical tells the story of two men writing a musical about two men writing a musical.
Assistant Director Jeffrey Larsen said the meta-theatrical show touches on the idea of wanting to create something and be one's own unique self.
"It strives for the audience to walk away feeling like they can unabashedly be themselves and that they shouldn't have that fear or anxiety," Larsen said.
Actor Mariah Seeley said the musical is also very fitting for college students.
"Each of these characters are so relatable, and no matter who you are, you're going to relate with at least one of the characters," Seeley said.
Larsen said he hopes this sense of being relatable will help the audience take away the powerful messages of the musical.
"If there are kind of mental roadblocks that are stopping them from being who they want to be and doing what they want to do in life, they should feel free to plow through them and to charge on," Larsen said.
Larsen said he also hopes the musical helps inspire the audience.
"They get to watch that writing process from start to finish," Larsen said. "And they get to see that their hard work and determination provides a successful outcome, and if it can work for them, why not us?"
"[title of Show]" will be the first live show held in the Arena Theatre, located in the Fine Arts building, since the pandemic began. Larsen said this show will be different because it is held in a smaller theatre. He said in larger theatres, there's a distance between the performers and the audience. However, the Arena Theatre is different.
"You don't get that separation, you are fully immersed in the story and literally immersed in the space," Larsen said. "And so it really forces you as an audience member to tackle whatever issues are coming up in the play as they're coming."
Larsen said the close encounters of the Arena Theatre are key to telling the story of the meta-theatrical play.
"The audience is able to see other audience members looking across from them at the same time," Larsen said. "There's never that moment where their mind can shut off and they're no longer aware that they're in the theatre."
Seeley said she is also excited to make the audience feel included in the play.
"It's so cool to break that fourth wall with someone just five feet from you," Seeley said. "We keep the audience involved and let them know that yes, this is a play, you are part of the play, which is even more fun because it's consistently engaging the audience into our story."
Other than being held in the Arena Theatre, the audience can expect "[title of show]" to be different than previous productions because the set consists of only four chairs and a piano.
Larsen said because of the small set, the actors are able to connect to the audience more.
"Because it's so stripped down and so bare, we are allowed to tell a story around that, we aren't reliant so much on the spectacle of a big set," Larsen said. "You're able to focus more on the words."
The meta-theatrical show requires a lot of creativity, Seeley said, not only from the actors, but from the audience as well.
"For audience members, it's going to be different from productions they've seen because they also really have to use their imagination as well," Seeley said. "They have to be really involved themselves and see themselves as part of this creative process."
Seeley said the audience will not only be reminded that they are at a show, they will also feel like they are in the show.
The creativity doesn't stop at the actors and audience. To tell the story with such a small set, Larsen said the crew even got creative with the lighting.
"Because it's in a small intimate space, and because there is no set, we are kind of reliant on our excellent student lighting designer, Aiden Whitney," Larsen said.
"[title of show]" will also feature a dual cast, where the characters of Heidi and Susan will stay the same, but the characters of Jet and Hunter will change each night.
"It's really cool and exciting to work with these two different characters every single night and how the energy shifts but is still always 150%," Seeley said.
Both Larsen and Seeley said they are excited for a live audience to see their hard work.
"It's really kind of exhilarating to be thrown into a production of such high quality and with such unique circumstances," Larsen said.
"[title of show]" runs Oct. 21-24. Tickets are on sale now and are free to all students.