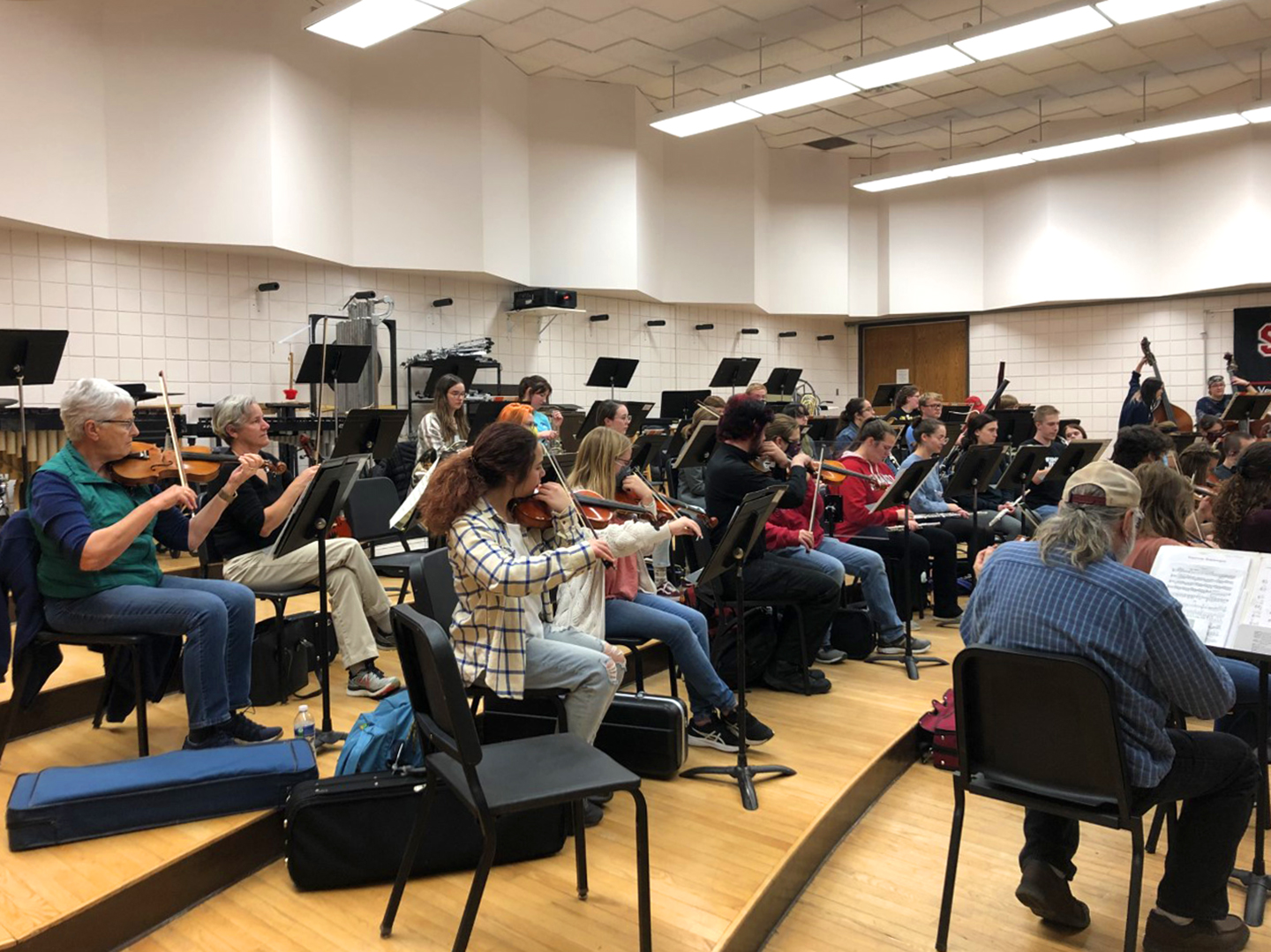 3 mins read
USD Symphony Orchestra in concert
USD Symphony Orchestra will be performing their concert in Aalfs Auditorium at 7:30 p.m. Dec. 3.
The orchestra will feature guest cello soloist Sonja Kraus, a USD faculty member who will be performing "Variations Symphoniques" by French composer Leon Boellman.
Luis Viquez, director of orchestras and music director of the USD Symphony Orchestra, said the first piece the orchestra will play is called "Elegy for Orchestra," written by John Corigliano, who Viquez said is one of the greatest American composers who is still alive today.
"It's a very somber piece, it's mysterious, and to me it's very important for the students to be exposed to different styles of music," Viquez said.
Ly Purzol, senior music education major, is a conductor and upright bass player for the Symphony Orchestra. Purzol said a lot of good music goes under the radar when it doesn't have a big name attached to it.
"Like the Florence Price piece, we're playing it, and the composer's black, and because she was black and writing music, the piece didn't get performed," Purzol said. "It's just a beautiful piece and I love it so much and without people actively seeking out underrepresented composers the piece wouldn't be played."
Brady Riker, sophomore music education and music performance major, plays violin and said it is an honor to play a piece by Florence Price because she's the first black woman symphonic composer, and that her music is very unique and beautiful.
Viquez said the final piece of the performance will be a masterwork piece that is used on auditions for serious orchestral players called "Symphony No. 2" by Jean Sibelius.
"My programming is very diverse because I try to find selections that serve different purposes," Viquez said. "So, we play this ("Symphony No. 2") not only to play a beautiful piece but also to play a piece that will train us on how to play better in an ensemble."
Riker said he is most excited to play "Symphony No. 2" because it's a challenging piece and it can help him grow more as a musician.
"It's kind of an ocean type of piece, it's very triumphant, like you can jam out to it and it's fun," Riker said.
Viquez said he is most excited to share the stage with his students and make music as a community during the Symphony Orchestra concert.
"Music has this transformative power, and to me, I'm just looking forward to making music with my students and demonstrating to everyone that music is essential and the arts are important," Viquez said.
Riker and Purzol said the Symphony Orchestra has been working really hard on this concert, and they encourage everyone to attend the concert and listen to the different perspectives in the music.
"This isn't a typical orchestra concert," Purzol said. "We're playing other music that isn't as well represented and it'll be nice because I don't know how often people get the opportunity to hear those pieces.
The concert is free to everyone and also available to watch via livestream on the USD Music webpage.