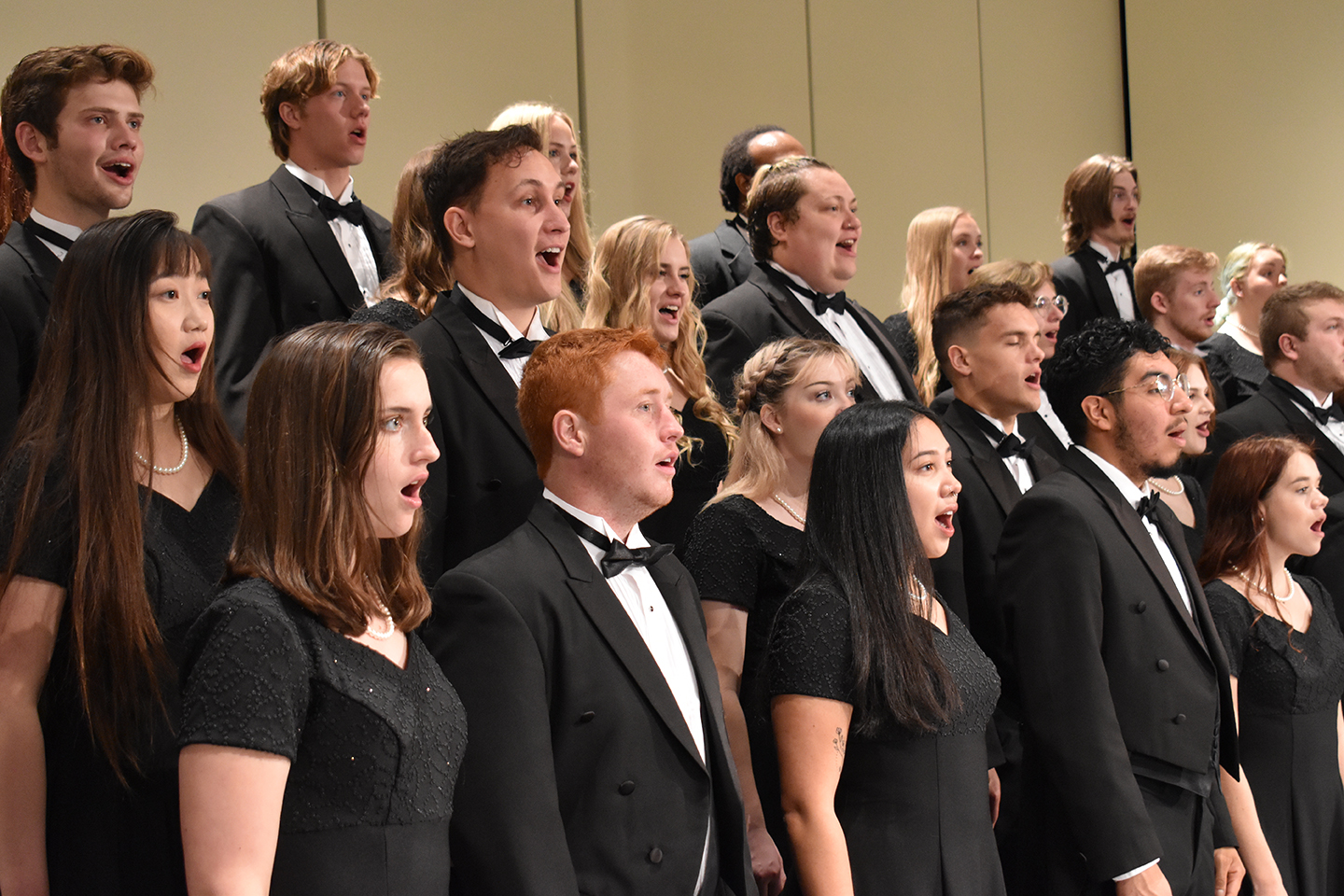 3 mins read
USD Choirs Return to Pre-Pandemic Numbers
Three groups burst with music each time they hit the stage, but in recent years fewer faces have graced the stage than choir director David Holdhusen is accustomed to. This year however, being the first full year not plagued by pandemic precautions, Holdhusen believes his three groups are finally reaching the number of participants he was used to prior to COVID-19.
The USD Choir department consists of three separate choirs. The Chamber Singers are the smallest group who mostly sing acapella. The Symphonic Choir has a wider range of music and will occasionally work with the symphony orchestra and plans to do a piece with the Sioux City Symphony. Lastly, the Collegium Musicum is the treble group with a music range that goes from early music to Broadway.
As the Choir Department grows, it is showing that the department is trying to get back to what choir was like before the COVID-19 pandemic, Holdhusen said
"Our numbers were fairly strong, and COVID-19 came and people were afraid to sing. We saw things kind of shrink up, and we saw people coming from the high schools that had years where they didn't really get to sing so our freshman numbers were down" Holdhusen said.
Now, the department is able to fill out the Symphonic Choir while also building up the Collegium group which struggled at the beginning of the pandemic, Holdhusen said
"I think that what this is really symbolizing is that we are now coming back," Holdhusen said.
As for the limit of students in choir, Holdhusen doesn't see there being a capacity for the three choirs, but sees the future growth in numbers as a likelihood of adding another ensemble later on.
In March of 2023, the Chamber Singers' members will be traveling to Italy and will spend nine days and 11 nights on a trip that consists of experiencing the art of Italy, visiting the Colosseum in Rome, Pompeii, Venice and singing Mass at the St. Peters Cathedral in Rome.
Before their trip, the Chamber Singers and several other music departments will be at the third annual Music is Alive Festival on Oct. 2. The three choirs will also be performing at their own Choral Showcase concert. The Showcase will be on Oct. 30 at 3 p.m. in Aalfs Auditorium located in Slagle Hall.
The USD Choir Department hopes to see this continuation in the growth in numbers throughout the year.
"I think at the very least we will maintain where we are, but I do see that we can approach even higher numbers going forward," Holdhusen said.
The numbers in the department shrunk during the COVID-19 pandemic and the choirs started to fill their groups, but now the department is starting to recover and working on big projects for the program as time moves forward.
"I'm just really excited about where our numbers are, and that we are back to where we were pre COVID-19" Holdhusen said.