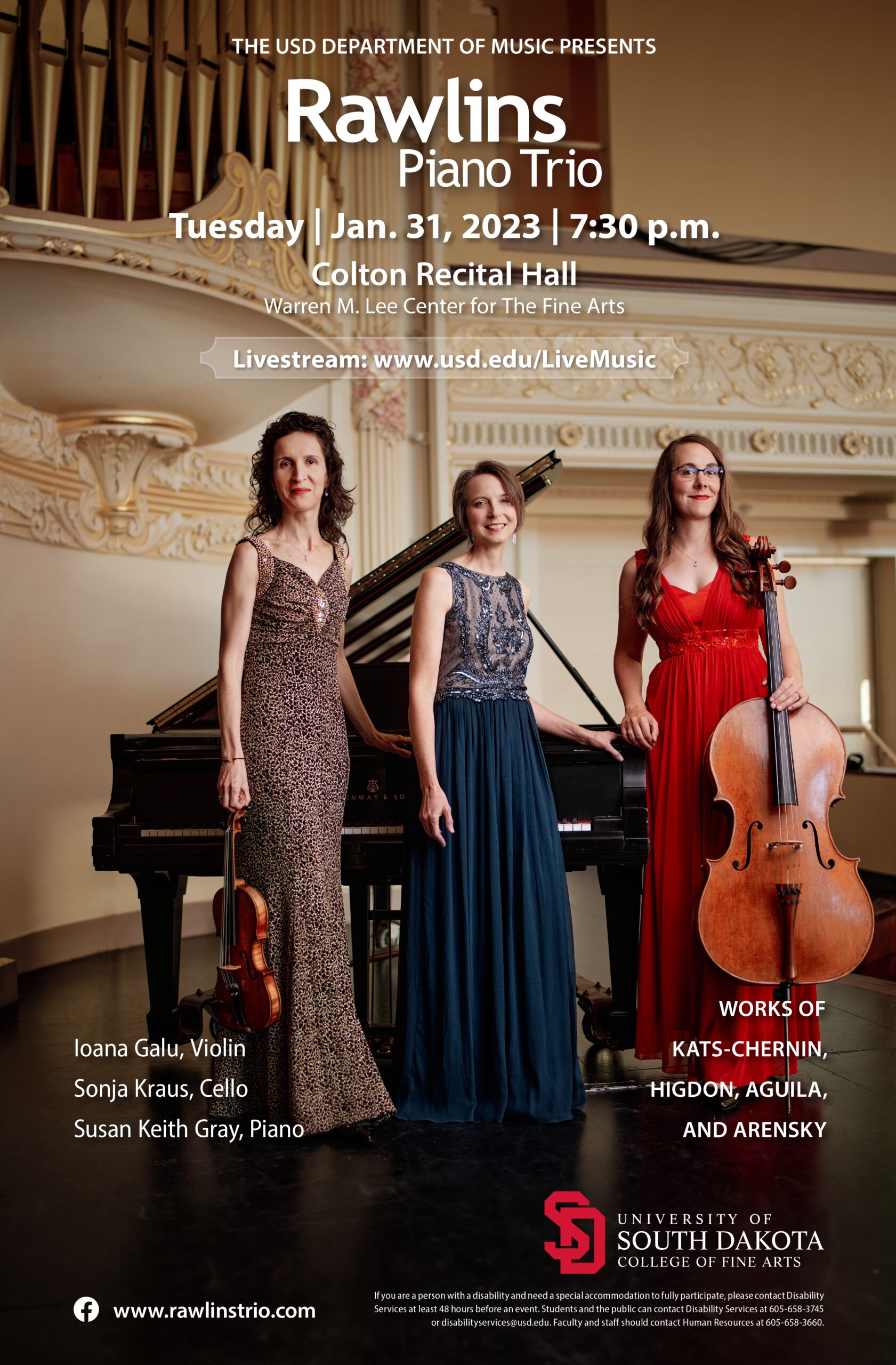 2 mins read
Rawlins Piano Trio Comeback After COVID-19
The Rawlins Piano Trio will be performing a home concert in the Fine Arts building on Jan. 31. This performance is one of the Trio's first following the COVID-19 pandemic.
The Rawlins Piano Trio was originally established in 1987 and consists of three faculty members from USD. The current group has been performing together for over four years and includes Ioana Galu on violin, Sonja Kraus on cello and Susan Keith Gray on piano.
"If one person in the group leaves, it goes to the university hiring process," Gray, the group's longest standing member, said. "It's a little bit like getting married by resume, so we always hope that we're going to like each-other. But we do."
This year will be one of the Trio's first normal tours since the pandemic and will include performances in five different states.
"If you think about the last four and a half years, two of them were weird with COVID and stuff, so I feel like this is my first year of normal. I feel like we have really been getting into performing this year. It's definitely our busiest performance year so far since I've been here," Kraus said.
Preparation for a concert of this caliber can take months.
"We decided on a program in October, started rehearsing in fall semester. Then we cranked it out in the beginning of the spring semester," Kraus said. "Every instrument has their own purpose in the trio, and their own difficulties… I would hate to have to remember as many notes as [a pianist] does."
The current program of the Trio includes a wide range of repertoire, from a minimalist Australian piece to a more contemporary, academic work. The trio says that they always work to include a female composer as well as a composer from an underrepresented population.
"It kind of checks off all of the boxes. We have a big romantic trio by the Russian composer Arensky … oftentimes audience favorites," Gray said. "On the first half, we have three works by living composers."
Other pieces in the program include works by Elena Kats-Chernin, Jennifer Higdon and a Uruguayan tango by Miguel del Aguila.
You can learn more about the Trio on their website, rawlinstrio.com. The concert will take place at the Colton Recital Hall in the Warren M. Lee Center for Fine Arts on Jan. 31 at 7:30 p.m. and will be livestreamed. This event is free to the public.