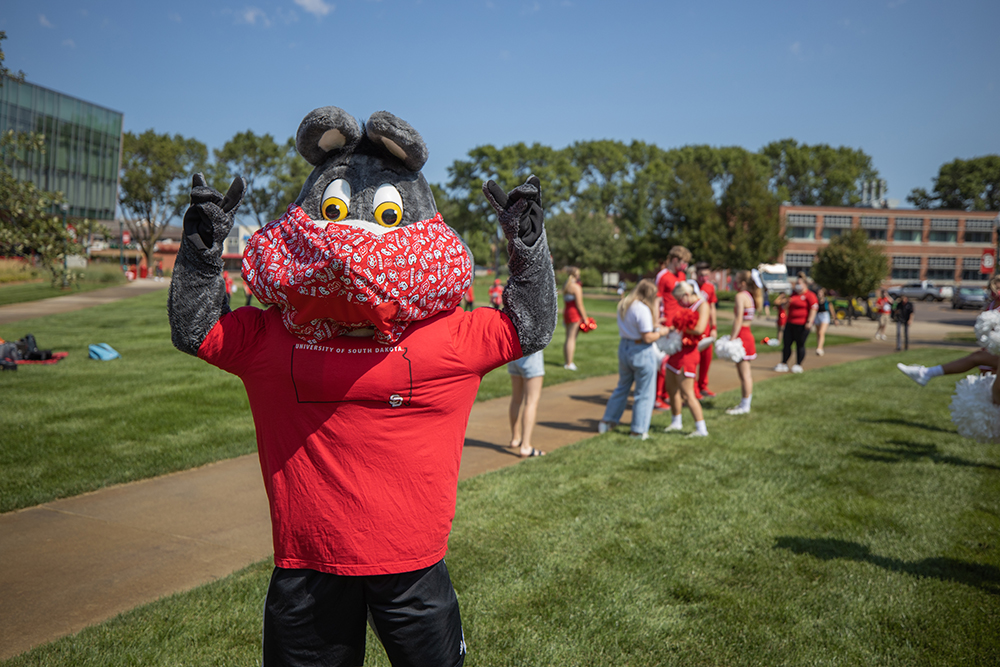 14 mins read
COVID-19 on campus: looking back, looking forward
The tide may be turning on the COVID-19 pandemic in the United States, with a decline in new cases nationally and regionally and with South Dakota's Board of Regents seeking a more "normal" fall semester on USD's campus. In response to this, USD student organizations, Vermillion businesses and local government leaders are looking to bring back what they said has been lost in the past year.
The local response to the pandemic over the past year has been driven largely by the USD administration and the Vermillion City Council.
Kevin O'Kelley, assistant vice president of research compliance at USD and member of USD's COVID-19 Task Force, said the university's response over the past year was guided by CDC guidelines and student health.
"It was just learning as we went," O'Kelley said. "We had to wing it a few times."
USD's initial response to the outbreak of COVID-19 in the US was to extend the 2020 spring break. O'Kelley said the university decided not to bring students back after spring break of 2020 because the administration didn't feel they could adapt on-campus learning to new CDC guidelines in such a short time.
"We didn't have the resources to bring it back safely last spring, so we spent the entire summer getting ready," O'Kelley said.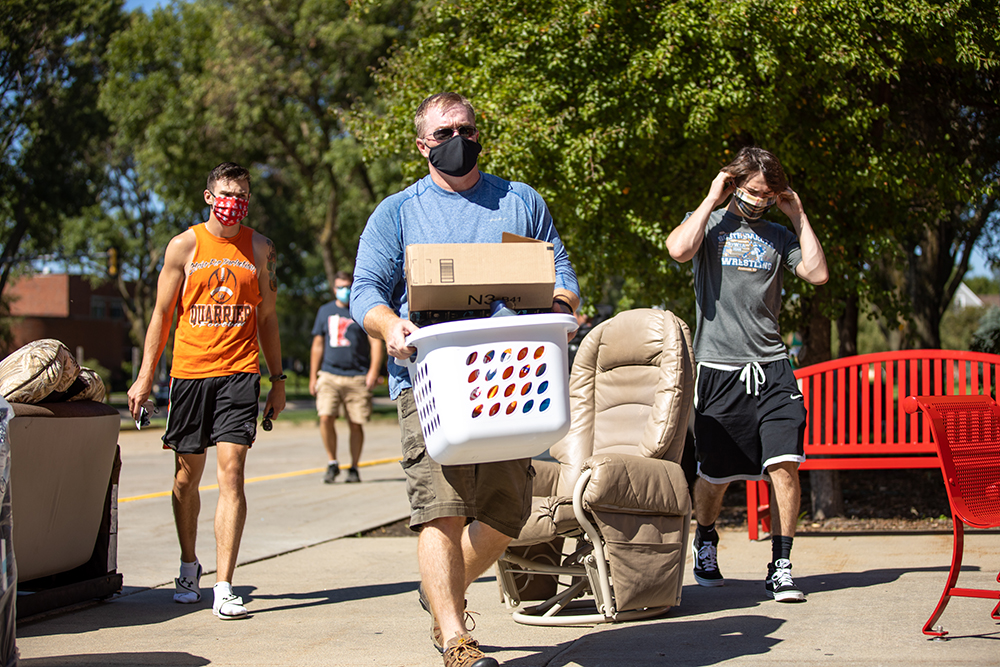 Preparing for the fall semester involved reducing seating capacity in the Muenster University Center and moving classes to either larger rooms or online.
USD President Sheila Gestring said the challenges of the past year were mainly about trying to maintain traditions and ways to connect students on campus despite the pandemic.
"I think we've done a nice job. I'm proud of the campus community, students, faculty, staff," Gestring said. "Everybody chipped in to give the best in-person experience possible for the students."
USD "proud" of teamwork on campus
O'Kelley said he's most proud of the teamwork by groups on USD's campus in responding to COVID-19, including USD's Student Government Association, volunteers, the medical school and USD's marketing and communications departments.
"I'd say that our efforts were successful in that we were able to stay in school all last year," O'Kelley said. "We had some unexpected numbers of cases last year, last August, but we were prepared enough that we were able to stay in school."
Those preparations included isolation rooms for students who tested positive and contact tracing.
"Housing brought (students in isolation) turkey dinner on Thanksgiving, you know, they really stepped up," O'Kelley said.
From the experiences of the past year, O'Kelley said the university has learned what resources are available from the state as well as what measures do and do not help to reduce transmission of COVID-19.
"This is our first pandemic, so we had a lot to learn," O'Kelley said. "We learned to put science first and accept the consequences, even though that's not what we wanted. We did not want to postpone football, we did not want to cancel the concert, we didn't want to do any of that."
Gestring said she believes a positive of the past year is that the university was able to work together with other partners in the region to make sure students could remain on campus and progress towards their degrees.
"I think if there's a silver lining to the pandemic at all, it's that we saw the USD campus community come together, the community of Vermillion, the alumni, donors, faculty, staff, friends of the university, the Board of Regents, the legislature, the Governor, the congressional delegation, everyone came together with a common goal and we were able to accomplish that goal," Gestring said. "And I just couldn't be more pleased in a world that oftentimes seems a little bit polarized when it came to this pandemic, there seemed to be a lot of unity."
O'Kelley said the most difficult part of the past year has been learning how to teach classes remotely, as well as understanding how to best communicate risks to young people on campus.
"I'm not a healthcare professional, and if I was I would know that 18-year-olds are not as risk averse as a 60-year-old," O'Kelley said. "So that was a difficult part, getting to understand that young college students are not as risk-averse as old-timers."
In retrospect, Gestring said the university should not have adjusted the fall semester to remove breaks, which she said caused extra stress for faculty, staff and students.
"Having a periodic break is really important to an individual's mental health, particularly during a pandemic that can add a level of stress," Gestring said.
USD student organizations prepare for a "normal" semester
USD student organizations were less able to hold in-person meetings and events over the past year at USD. Laura Anderton, director of Sorority and Fraternity Life at USD, said the issues for Greek Life have been the ways in which COVID-19 makes their central mission more difficult.
"Fraternities and sororities are social organizations at their roots," Anderton said. "Having restrictions on the number of people that you can have at an event and the way that we interact with each other, having to wear face masks, having to social distance, having to use hand sanitizer all the time… made it hard to be as social as fraternities and sororities really intend to be."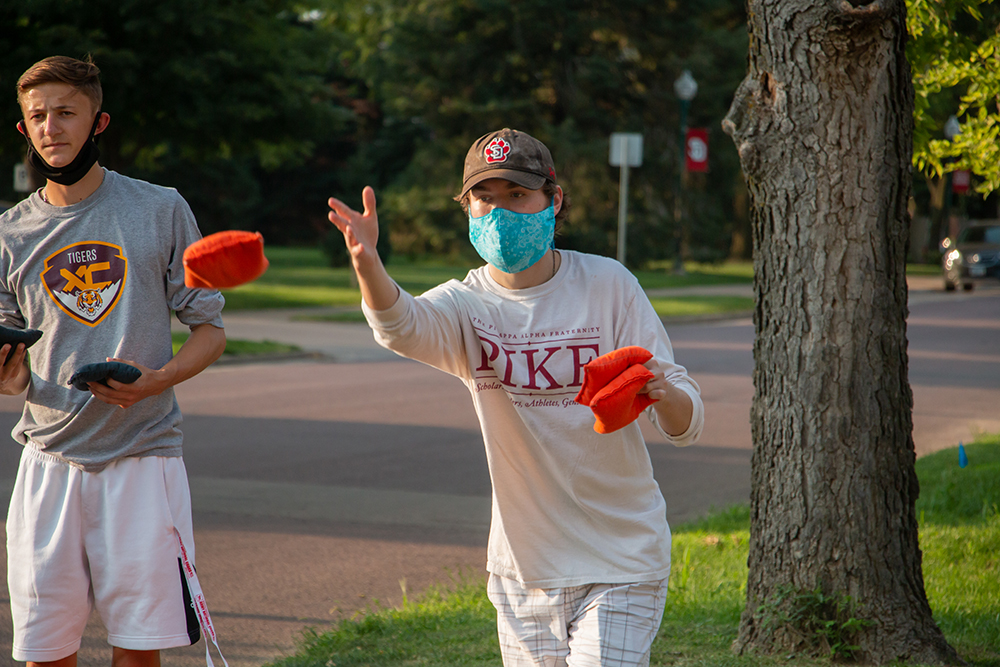 Out of the past year, however, Anderton said USD Greek Life has improved their use of technology, including incorporating a phone app into the recruitment process instead of paperwork and computer labs.
"I think the other piece that we're getting out of this is challenging the assumptions on why we do what we do and how we do what we do," Anderton said. "Some things we learned we don't need to be doing, some things we learned we can do in a different way."
Anderton said she's proud of the leadership students in Greek Life have taken over the past year.
"I know that there's this perception out there that the fraternities and sororities have not been overly safe during this time, but the reality is they really have been, and when you think about communal living spaces, they have been doing a phenomenal job of monitoring themselves and keeping themselves safe and putting in new protocols," Anderton said.
Cara Olson, head of USD's Campus Activities Board (CAB), said CAB has provided at least one weekly program for the majority of the school year, but the biggest challenge has been reaching all students on campus.
"We have worked really hard to create and provide COVID safe programs, but not all of our students have heard about our programs or have felt safe coming to them," Olson said in an email interview with The Volante.
Olson said safety concerns on campus have made it more difficult to make students feel comfortable in spaces CAB has used for programming, which has required getting creative.
"I think student organizations have been working hard to collaborate and come up with new ways to offer programs through COVID times, and I think those collaborative ideas have been a benefit to students here," Olson said.
Vermillion theater plans reopening
In the Vermillion community, the Coyote Twin Theater saw its business model upended by COVID-19. Shannon Cole, the executive director and marketing manager of the Vermillion Cultural Association (VCA), which runs the Coyote Twin, said the theater closed March 20, 2020, and has focused on popcorn sales and private rentals for revenue in the year since.
The theater has sold popcorn in the community on Friday and Saturday evenings, as well as renting out the auditorium to small parties for movies, TV shows and video games.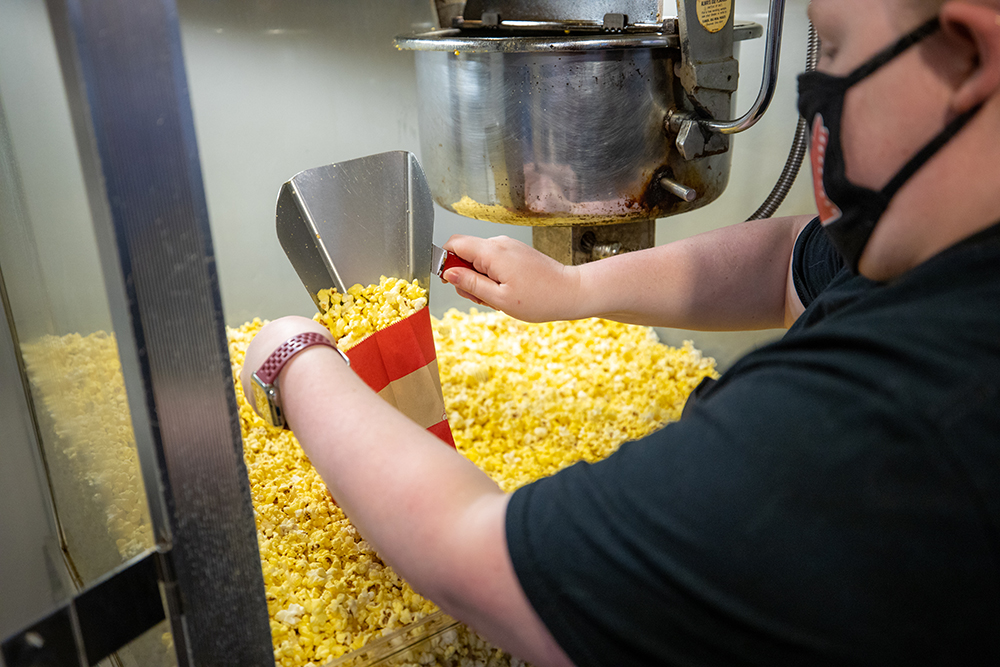 The theater tried reopening near the start of USD's fall semester, but Cole said they found there wasn't enough consumer confidence and that the movie studio release schedule was too flexible to sustain consistent business.
"We just felt like it was a service that we wanted to try to offer for college students, and it just didn't take off," Cole said. "The reason we've elected to stay closed when some other theaters are choosing to operate is there's just not enough product, the studios aren't releasing enough movies."
Cole said an issue for the Coyote Twin has been the same as for cinemas nationwide: studios don't want to release movies until theaters in larger states are open for business.
"It's so funny how we're just a little teeny theater in South Dakota, but what happens on the coasts really affects us," Cole said. "So if the New York movie markets aren't open, and the California movie markets aren't open, studios aren't going to trust that people are going to come to the movies."
The Coyote Twin plans to reopen this Memorial Day weekend. Cole said she's looking forward to making use of the space again.
"Income will be nice," Cole said. "But honestly, just making use of this building. I feel like it gets a little lonely in here when you have an auditorium that's totally empty."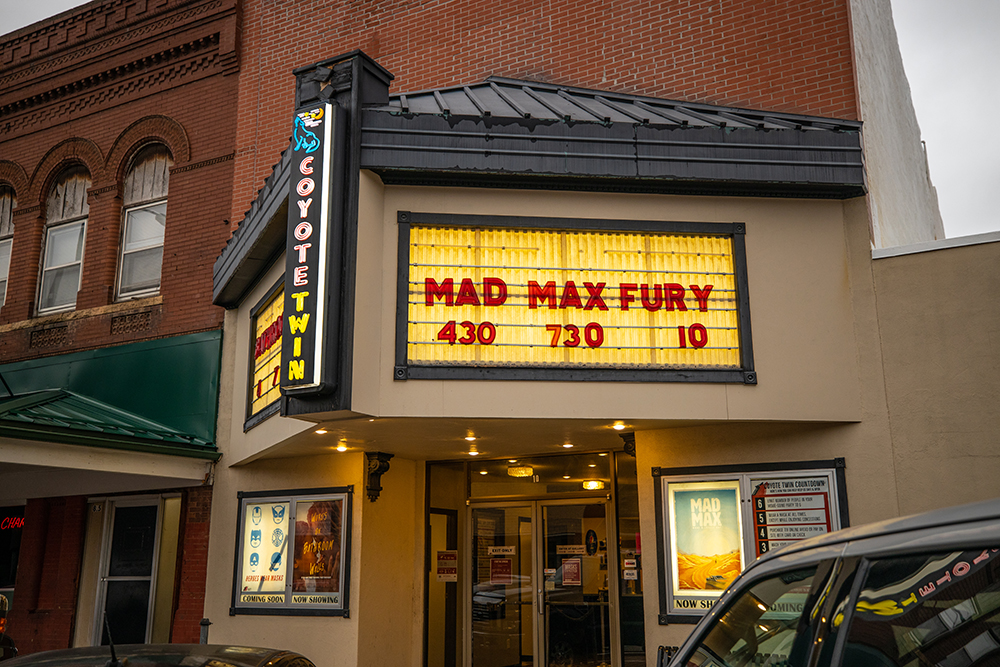 Cole said the Vermillion community has been supportive of the Coyote Twin, both through popcorn sales and a fundraiser around Thanksgiving that brought in close to $10,000 to pay the theater's bills, in addition to a grant from the VCA. Cole said these funds help the theater to maintain good relationships with the contractors it will need to reopen.
When the Coyote Twin reopens, Cole said it will be open Thursday through Sunday, with discount days on Thursdays.
Cole also works with the VCA overall, and said the group is preparing to bring back its programming. Upcoming events include a burger battle among restaurants downtown inspired by the Sioux Falls Burger Battle.
"Each restaurant—like Dakota Brickhouse, R-Pizza, Leo's Bar—they're all going to be offering like a specially made burger for this competition," Cole said.
Participants will complete a poll on the quality of the burger and service, and will be entered to win a raffle. The event is scheduled for the month of June. In addition, the VCA will be reopening its gallery.
Vermillion community coordinates lifting of pandemic restrictions
Vermillion's Mayor, Kelsey Collier-Wise, said the city's COVID-19 measures, most crucially the mask signage requirement, will continue to remain in place in step with USD and the Vermillion School District, and the loosening of campus and school requirements will be coordinated with city measures.
"A big part of that is trying to stay in step with the university and the school district so that we're all kind of moving at the same pace," Collier-Wise said.
The city will be opening its public pool this summer, with measures in place for sanitation and social distancing, including more entrances and exits.
"Last year… a lot of things were canceled, (this year) they will go forward, they might just look a little different," Collier-Wise said.
Collier-Wise said she thinks the return to pre-pandemic normality will be accomplished step by step.
"It's not going to be, 'I woke up this morning and COVID was done and we went back to normal,'" Collier-Wise said. "It's going to be little things."
Looking forward to the fall semester on USD's campus, O'Kelley said the university is planning for full classrooms, no mask requirements, football, tailgating, intramural sports, the Wellness Center and everything else.
"We hope to have it like COVID-19 never happened," O'Kelley said. "There will be some changes, I believe that will be semi-permanent, that you can expect to see. We will continue to clean a little better than we used to."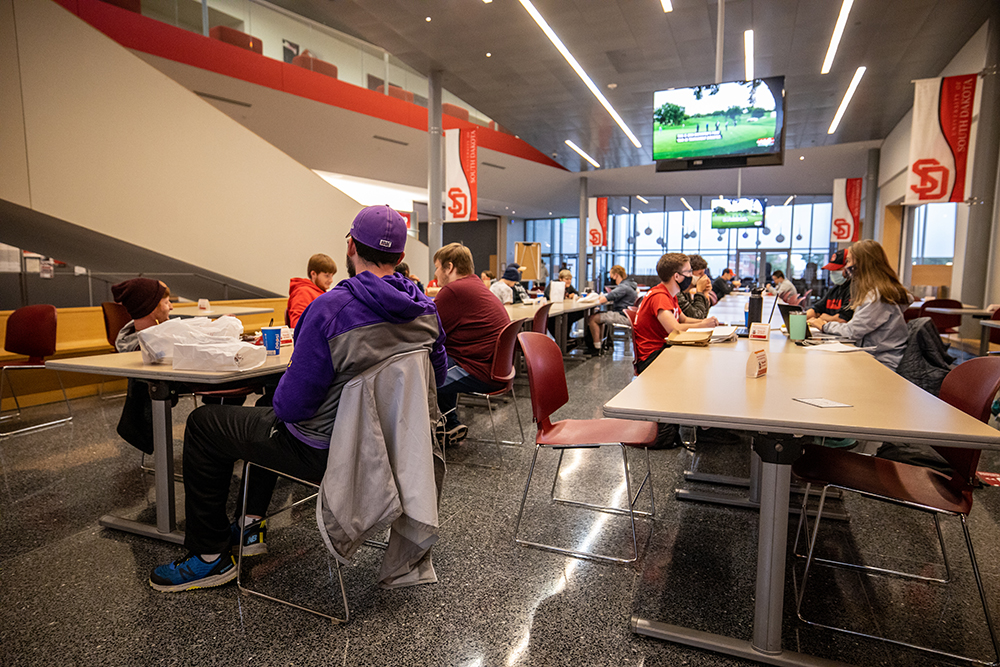 Olson said CAB is hoping to be able to offer a concert on campus next year, but are still playing things by ear.
"We would love to be able to do (a concert) next year," Olson said. "But either way, we intend to continue to offer programs and activities for students that blend the practical with fun"
O'Kelley said he's hopeful and confident the university will be able to get back to normal in the fall semester. The COVID-19 Task Force may or may not continue to be an entity on campus, but O'Kelley said President Gestring will want him to continue to monitor COVID-19 on campus and encourage student vaccination.
"If we can get a high enough percentage of our population vaccinated, then we'll have defeated this pandemic," O'Kelley said.