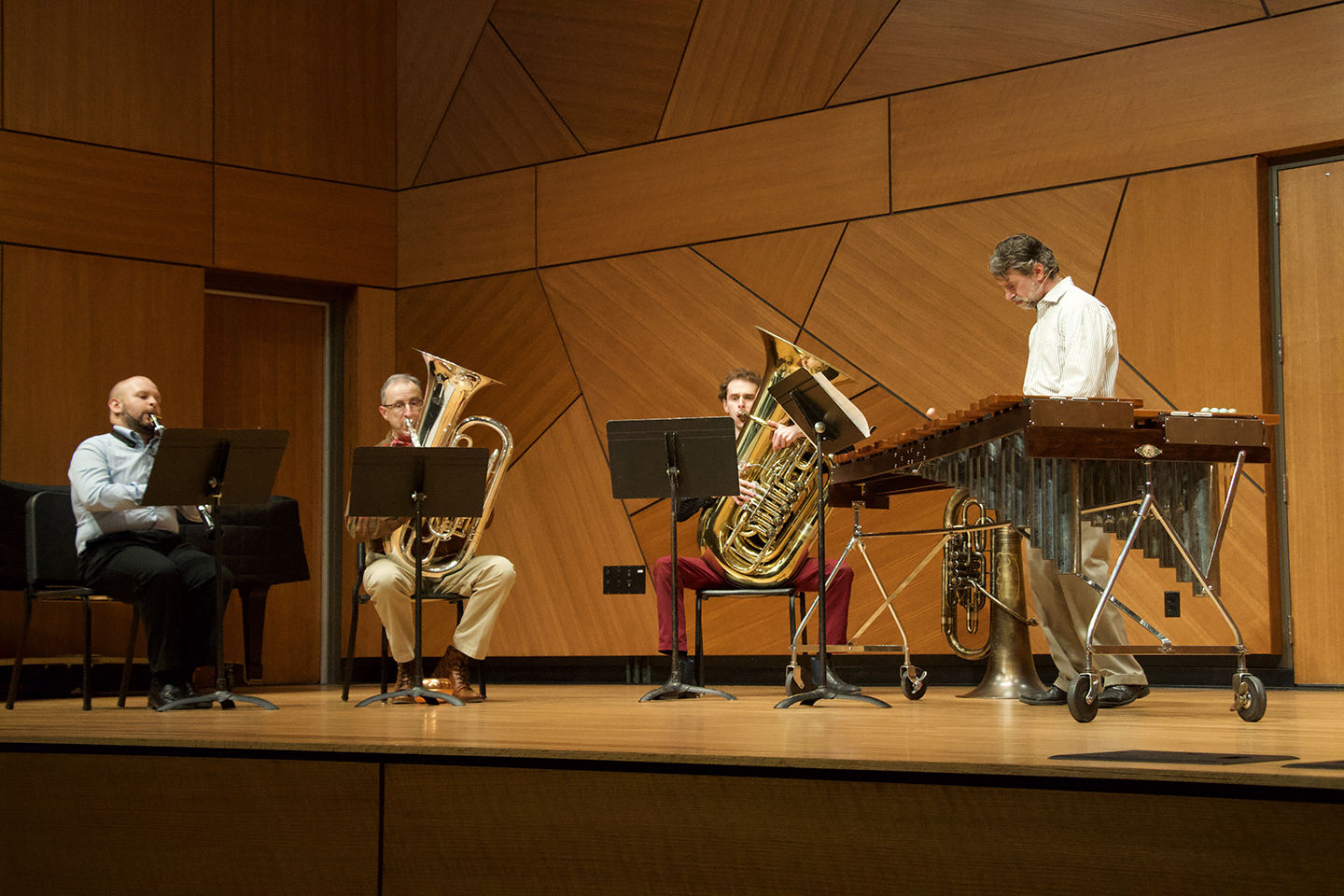 2 mins read
USD professors perform Ragtime for students and community
The Dakota Ragtime Trio performed at the Colton Recital Hall on Jan. 18. The trio is made up of three professors from the University of South Dakota's music department. Darin Wadley, Director of Percussion Studies, plays the xylophone, Luis Viquez, Director of Orchestras, plays the clarinet and Todd Cranson, Director of Athletic Bands, plays the tuba.
Wadley said the trio played Ragtime, a type of jazz, but specifically they played Novelty Rags.
"What we're playing are called Novelty Rags. These are rags written for the xylophone and they're kind of a vaudeville act, so, they're designed to be played fairly quickly with a lot of energy, a lot of circus act kind of energy," Wadley said.
Viquez said Ragtime is very different than the music he is used to playing.
"It is different music than what we usually play. I play in a duo with Dr. Wadley, a clarinet and percussion duo. We play a very different repertoire," Viquez said. "We play works that are mostly contemporary works written for clarinet and percussion that are more challenging."
Wadley said the centerpiece of the concert was a 100 year old xylophone the department acquired a few years ago.
"So in the turn of the century, 1910 up to about 1920, xylophones were really popular," Wadley said. "A company called Deagan made these artist's special xylophones and they're designed for xylophone soloists. We came across one and recently had the opportunity to get it fixed up. I sent it away to a tuner in California and it came back and it's just a gorgeous instrument."
Wadley arranges the music for the trio himself from traditional Novelty Rags.
"I've taken all the music that we play and arranged it from the original versions, whether it was piano and xylophone or a small ensemble in xylophones. So, I rearranged the music to fit the tuba and the clarinet," Wadley said.
The trio was joined by Wadley's son, Logan Wadley, as an additional tuba player, Wadley said he was excited for his son to join the trio on stage for a few songs.
"He goes to school at Eastman School of Music in Rochester, but they're going remote right now so he's here and he's actually going to join us as a second tuba player on three tunes," Wadley said.
Viquez said playing for an audience is important as a teaching tool. Showing his own passion for the clarinet on stage sets a good example.
"I enjoy playing because I think it's a good way to set an example for our students to really do our craft with passion," Viquez said.